Thursday, March 15th, 2007
Redskins roll behind threes, defense
By Randy Bruns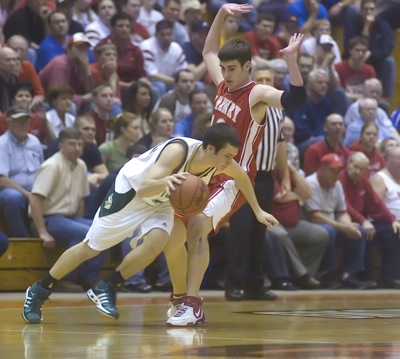 BOWLING GREEN - From the very start of the game, the St. Henry Redskins made their intentions well known.
The Redskins attempted nine consecutive three-pointers to start Wednesday's Division III regional semifinal against the Evergreen Vikings, and though they made just three of them, the statement had been made.
Then the Redskins began to get hot.
St. Henry (17-8) drilled six of its next 12 attempts from behind the three-point arc, and the barrage fueled a 56-32 thrashing of Evergreen (17-7) before a noisy crowd at Anderson Arena on the campus of Bowling Green State University.
The Redskins now advance to face the number-one ranked Liberty-Benton Eagles in Saturday's 7:30 p.m. regional final with a trip to state on the line. The Eagles (24-0) were the poll champions in Division III in The Associated Press state poll.
Interestingly, these same two schools squared off in the football state semifinals back in late November, with St. Henry pulling out the win on a late touchdown by Andy Puthoff.
Puthoff played a major role against Evergreen as well, as he did the bulk of the damage in St. Henry's long-range assault.
With his team nursing a three-point lead midway through the second quarter, the burly senior canned three straight bombs in a span of just over two minutes to propel the Redskins into the locker room at halftime holding a 22-13 advantage.
The Vikings hung around through the start of the second half, but the Redskins stepped back behind the arc to put them away. This time it was junior Ryan Wehrkamp who found the soft stroke, as the junior buried a pair of treys late in the third to give his team an insurmountable 17-point bulge.
"We've said all year long that that's the strength of our team and that was what we were going to emphasize," said St. Henry coach Joe Niekamp of his squad's long-range prowess. "The kids did a great job of spreading the floor, and Evergreen's a hard team to get penetration on. They play you very soft on the perimeter and don't let you get a lot of penetration. We just had a lot of open looks from behind the three-point line and thank goodness we could knock some down tonight."
Puthoff led all scorers with 19 points thanks to a flawless six-for-six effort from the field, including four three-balls.
"Before the game I was feeling pretty good shooting the ball," said Puthoff. "When I hit that first one I thought things were going good so I just kept firing them up. That's kind of how I've always played, ever since I started playing high school basketball I've always been a three-point shooter and that's what I've always worked on."
Evergreen coach Jerry Keifer, who saw his team eke out a pair of tough wins over perennial powers Patrick Henry and Archbold at the district level, felt like the luck ran out on this night.
"In the last two games (that we won) to get here, every possible thing that could go right went right, and then the bottom dropped out (tonight)," said Keifer. "St. Henry played really well, and I was impressed with how well they defended. They really got after us, more so than what I'd seen on the tapes that I had watched. They defended what we do by far better than anybody that we've played in the last three years."
Niekamp was also quick to praise his team's defensive effort.
"You have to be aggressive, and that's the way we play our defense," said Niekamp. "The kids did a nice job of not letting them run their stuff, and we switched off on a lot of the picks that are crucial to what they do. The kids did a nice job of communicating and the defense was just tremendous."

TICKET INFO - St. Henry ticket in formation for the regional final on Saturday will be sold as followed: Tickets for reserved seats and general admission will be sold to season ticket holders (maximum two reserved tickets per person, one ticket per season ticket) on Thursday evening from 7:00-7:45 p.m. and to the general public from 7:45-8:00 p.m. Tickets will also be on sale at the high school office and Gels IGA on Friday and at Gels IGA on Saturday until 1:00 p.m. All pre-sale tickets are $6, and tickets at the door will be $8. Fans are encouraged to purchase their tickets in advance as the school receives a percentage of the presale ticket revenue.