Friday, March 2nd, 2007
Cavalier grapplers struggle on first day of state competition
By Gary R. Rasberry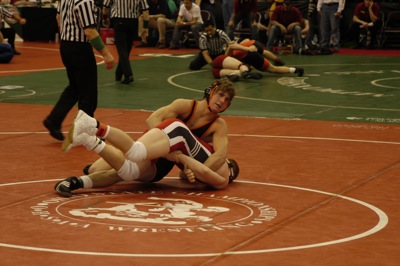 COLUMBUS - What was looking like a tremendous day of potential for the Coldwater wrestling program at the 70th State Wrestling Tournament hit a big roadblock from the start.
The Cavalier trio - Tyler Kunk, Lucas Homan and Adam Grieshop, - lost their opening matches, two via pinfall, as the first day of wrestling got underway at the Schottenstein Center on the campus of The Ohio State University.
For Kunk, the first Cav to repeat as a state qualifier, things started out well in his 171-pound match against Jordan Cartwright of Mohawk. Kunk, who looked to be hampered by an injury got an early lead before Cartwright took control and took a 20-12 major decision putting Kunk in the consolation bracket late last that night.
"I've had shoulder problems a few years now," said Kunk. "It got pulled the wrong way. He kept pulling on it.
"You get down to the end of the season going from football straight into wrestling, you're all beat up. ... You have to do what you can."
Needing a win to keep his visit to state active, Kunk wrestled Lionel Woods of Indian Valley in the consolation round. Kunk got into another shootout, but needed an injury timeout to get his shoulder back into shape. Kunk recovered to take a 20-17 win to move on to today.
"It leaves a bad taste in your mouth if you come down and not win," said Kunk. "I won a match last year and I didn't want to come down and not win. I just went out and wrestled to win."
Senior Lucas Homan also had a rough match against Ben Ball of Amanda-Clearcreek. Ball was able to pin Homan in 1:32 to put the Coldwater representative in the loser's bracket.
"You come down here and you think that you know what you got into. The competition is going to be fierce," said Homan. "He got to me a little, but in that match, he was the better competitor."
In the second match of his night, Homan faced Zach White of Tiffin Calvert. Homan got out to a big lead of 8-0 through two quarters, then had to hold off White to get a 10-5 win to keep the season going on.
"I came out and told myself 'This is possibly your last match, You have to go out there with your guns blazing.'," said Homan. "I had one heckuva start."
Grieshop also had a tough go of things at 285. Grieshop faced Martins Ferry's Jeremy Paden, who was able to make it a one-period workday, pinning Grieshop in 1:55.
Grieshop had to return later to face Ryan Steward of Ashland Crestview in a win-or-go home match. Steward got a couple of takedowns early before pinning Grieshop in 2:42 to end Grieshop's season with a fine 34-8 record.
"I just couldn't get it done today," said an emotional Grieshop. "I tried my best."
Homan and Kunk return to the mats this afternoon at 12:15 p.m. in the second round of consolations. Stay tuned to www.dailystandard.com to keep tabs on local wrestlers.