Tuesday, March 27th, 2007
Fort Recovery wins spring opener over Celina
By Gary R. Rasberry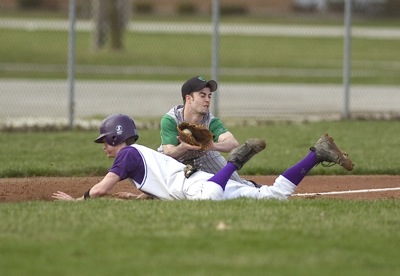 Fort Recovery got its season started off on a strong note, plating four runs in the bottom of the first inning en route to an 11-2 win over Celina in the season opener for both teams.
Due to wet field conditions, the game was moved from Fort Recovery to Jim Hoess Field in Celina, although the Indians retained the home team status.
The Indians certainly looked like they were at home, belting out 12 hits on the day and playing spotless defense to avenge last year's 9-0 shutout loss to the Bulldogs over at Eastview.
"Get good defense, good pitching, not walk anybody, get clutch hits. That's how you win games," said Tribe coach Aaron Vaughn. "We did all those things today."
All the runs the Indians needed came in the bottom of the first. Bobby Rammel led off with a single and went to second on a passed ball. After Frank Thien moved Rammel up with a groundout and Clint Tobe walked, Kevin Schoenherr singled in both runners to make it 2-0. Troy Metzger followed with a double to put runners on second and third for Curt Heitkamp. The designated runner singled in both baserunners to make it 4-0 in favor of Fort Recovery.
"You get out of the first inning three up-three down and win the inning, you can roll from there," said Vaughn. "That's what I always tell them. When you get up, you can be more aggressive on the basepaths and at the plate. That makes the game easier for everybody."
"You know what, I don't know what we could have done different," said Drew Braun, Celina's first-year skipper. "They came out hitting the ball. It wasn't like we gave them those first four runs, they earned the first four. There's nothing you can do about it except try to chip away."
Schoenherr came up with a quality start for the Indians. After three innings of two-hit baseball, the Bulldogs finally got a couple markers up. With one out, Eric Loughridge was plunked for the first of two times in the game. Joel Lange followed with a double to put runners on second and third for Dustin Woods.
Woods grounded hard to third to score Loughridge and Brian Bockly singled in Lange for the second Bulldogs run.
Schoenherr left the mound after four innings and Toby Metzger came on and threw three no-hit, one-walk innings to earn the old-school save. Metzger struck out three with the only blemish being three hit batsmen.
Metzger did double damage against the Bulldogs, going 3-for-3 with two long doubles that, anywhere else, but the 400-foot fence at Hoess, would have been homers. The big blow came in the fifth with the bases loaded when Metzger brought three home with a double that hit the fence on the fly in deep center.
"He ripped the ball today," said Vaughn. "We're looking for big things from him and everybody this year. Hopefully one-through-nine (in the batting order) will be pretty solid."
Heitkamp went 2-for-3 with two RBI while Tony Diller was 2-for-4 with a RBI in addition to Metzger's big day at the plate.
Celina had five hit batsmen on the day, to go with just four hits, but the Bulldogs left nine runners on base.
"Our guys stayed in there. They're battlers," said Braun. "We're not backing out. We'll stay in and battle. We just couldn't get them to fall. We're not going to win a lot of ballgames with that many hits."
In the second-through-fourth innings, the Celina hurler allowed just three hits and two unearned runs. In the first and fourth innings, he was tagged for seven hits.
Fort Recovery is at Lincolnview today, while Celina travels to Marion Local to face the Flyers.