Wednesday, March 7th, 2007
It will be an all-MAC district final at Wapak
New Knoxville and Marion Local will have a rematch with regional berth on the line
By Ryan Hines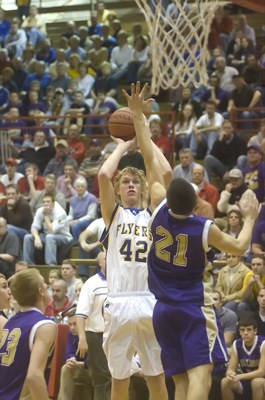 WAPAKONETA - It will be an all-Midwest Athletic Conference Division IV district final at Wapakoneta High School on Friday night.
The D-IV poll champion New Knoxville Rangers needed overtime before finally putting away Lima Perry, 69-58. Then, in the nightcap, Marion Local's post players controlled the paint in a 57-52 victory over Ada.
New Knoxville (23-0) needed OT to get past Marion Local (11-12) during the regular season and Friday night's rematch at 7 p.m. has all the makings of another instant classic.

New Knoxville 69, Lima Perry 58 (OT)
The Rangers dodged a bullet in regulation, then dominated play in the extra session before coming away with an 11-point victory.
New Knoxville defeated Lima Perry by 15 points in their regular-season meeting, but the Rangers were pushed to the limit before outscoring the Commodores 13-2 in the final two minutes of overtime.
MAC Player of the Year Ross Stienecker, who scored just eight points, hit a pair of free throws at the 2:57 mark of OT and Marcus Henschen then drilled a trey from the top of the circle for a 59-56 Rangers lead. Stienecker added another deuce before Josh Niemeyer contributed four more points leaving New Knoxville on top 65-56 with just 39.7 ticks left on the clock.
New Knoxville hit four more free throws in the final 26 seconds to put the finishing touches on the win. The Rangers hit 17-of-21 free throws in the game including 13-of-15 in the second half and OT.
Niemeyer and Henschen shared top-game scoring honors with 16 points apiece while Brad Piehl came off the bench to score 13 points.
Despite the win, New Knoxville head coach Dan Hegemier spent nearly 30 minutes between district semifinal games with his Rangers in the locker room and was unavailable for comment.
Jimmy Nickles, who fouled out of the game just prior to the three-minute mark in OT, led Lima Perry with 15 points. Bentley Cooks and Aaron Pescosolido added 12 and 11 points, respectively.

Marion Local 57, Ada, 52
The Flyers withstood a 27-point effort by Ada's Zac Dysert with a strong post game in the Blue and Gold's five-point win.
Marion Local's Greg Hartings and Jordan Winner had a size advantage in the post and the Flyers duo responded in a big way.
Hartings led the Flyers with 18 points and eight rebounds while Winner contributed 15 points and four rebounds. Damon Bertke added to the post dominance by the Flyers with six points and eight rebounds.
"We attacked the basket and got the ball down to our big guys and they we were able to finish," said Marion Local head coach Keith Westrick. "They (Ada) didn't have an answer for our size. Jordan's been inconsistent at times this year and we've been telling him that at his size he just needs to go up with it when he gets it in the low post. He's starting to realize that and a lot of that just comes down to confidence."
The Flyers also appeared to have solved their free-throw shooting woes after a 15-of-21 performance.
"We've been struggling with our free-throw shooting but it ended up being huge for us tonight," said Westrick.
Marion Local trailed by as many as 10 points in the second half before a 12-4 run tot close the third period left the Flyers down by just two points, 32-30, with eight minutes left to play.
The Flyers opened the fourth quarter with Alex Moeller hitting a deuce to tie the score and then Winner drilling a trey to give the Blue and Gold the lead with just over five minutes left on the clock.
"We've been a team this year that really hasn't had a set lineup. Sometimes you can't tell who our starters are when we play because our bench will come in and play so well," said Westrick. "We've never been able to define our roles. Jordan Winner and Alex Moeller came off the bench and gave us some big moments in the fourth quarter helping us to win this game. Our bench came through in a big way."
Marion Local went on to build as big as a a 10-point bulge in the fourth quarter before setting for the five-point win.
Westrick knows his team has work to do, but likes the role of his team entering Friday's rematch with New Knoxville.
"There's no doubt that New Knoxville is a good team and they have the poll championship to prove it, but they also have the pressure to prove it," pointed out Westrick. "I like the fact that we'll be the underdogs again when we face them. We need to attack them like we attacked Ada tonight. We're in a position where we just need to play our game because the pressure is on them."

ML TICKET INFO - Tickets for Marion Local's district final will be sold as follows: Wednesday from 6 p.m. to 7:30 p.m. in the High School office; Thursday from 12 p.m. to 4 p.m. in the High School Athletic office; Friday from 11:45 a.m. to 12:30 p.m. in the Middle School and then from 12:30 p.m. to 3:30 p.m. at the High School Athletic office. Tickets are $5 for adults and $4 for students.