Wednesday, April 4th, 2007
Mercer County Fair will have beer
Board takes vote after beer protesting crowd departs the meeting
By Timothy Cox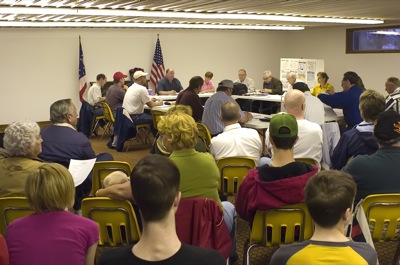 Beer will be sold at the 2007 Mercer County Fair.
In a late-night vote after all spectators had left the Tuesday night meeting of the Mercer County Fair Board, members voted in favor of beer sales. Along with the vote, board members adopted 10 rules concerning alcohol sales.
The vote came despite dozens of people who have spoken against beer sales at the fair and a petition with 900 signatures objecting.
"The fair board would like to thank everyone for their thoughts and opinions, both negative and positive," a written statement issued this morning by the board said.
On Tuesday night, fair board members listened for nearly an hour as area pastors, church groups and citizens weighed in against alcohol at the fair. Only one citizen - a former fair board member - voiced support for the proposal.
The Celina Ministerial Association handed over petitions with 900 signatures and asked for fair board members to create a task force to find other ways to raise money. The Rev. Mark Wakeland, the ministerial association's president, called for an "open and honest" discussion involving the community, not just the fair board.
"We want to discuss how we can work together to raise funds without selling alcoholic beverages," Wakeland said. "We're willing to help."
This year's fair runs Aug. 7-13.
Several people who spoke Tuesday said they doubted the ability of officials to properly secure alcohol sales. Brandon Williams, a Celina High School student, urged fair officials to keep the fair "good family fun." When Williams said he was certain that alcohol and associated problems would spill outside the beer tent, board President Steve Seitz interrupted.
"It will not go outside the tent," Seitz boomed. He later apologized, noting he "got a little worked up." The beer garden will be located on the east side of the grandstand near the back entrance to the fairgrounds.
Seitz said he simply does not want people making assumptions when they don't know the proposed rules yet.
Others echoed similar sentiments that related problems would spread far beyond the beer sales area.
"When they leave, that's when the trouble can start," said Angie Thurston of Celina.
Others said beer sales and the presence of youth is a bad mix.
"I'd like to see the fair remain a family-oriented event," said John Miller of Celina, adding that alcohol is the "most abused drug in America."
Rich Field, who heads Serving Friends and Family, a neighborhood street ministry, said addictions are the most common problem his organization deals with. Selling beer at the fair would "perpetuate addiction," he said.
One resident expressed concerns about ride operators imbibing before returning to their posts.
Seitz said that issue has been discussed at length with the owner of the ride company. The owner has assured fair officials that operators will not be allowed to be under the influence.
"None are even allowed to be in the beer garden," Seitz said, adding that any ride operators found to be drinking or in the presence of the beer area would be immediately terminated by the company.
Others questioned whether beer sales would be the financial boon organizers anticipate. Sheriff Jeff Grey already has estimated that security costs will be significantly higher due to extra staffing. The fair stands to lose some revenue from people who decide to stay away because of the availability of alcohol, they said.
But Joe Bey said he supported the idea of selling beer at the fair.
"Auglaize County has beer, and they do not have any problems," Bey said. "It's there for the people who want it."
He said officials could try it for a year to see how it works out. If there are problems or beer sales don't generate the expected revenue, the plan could be dropped for the next year, he said.

The rules for beer:
Mercer County Fair officials have adopted 10 rules concerning planned beer sales at the 2007 fair, which runs Aug. 7-13.
The rules include:
• Everyone must show valid identification, no matter their age.
• Everyone drinking beer must wear a wristband issued by the fair.
• There will be a designated, confined area for a beer garden. Drinking will be allowed only inside the beer garden, except for selected grandstand events.
• Selected events that will be permitted to have beer in the grandstand are go-kart races, the tractor pull and harness races. No beer will be sold during the demolition derbies or other grandstand events.
• No beer containers - empty or full - will be permitted outside the beer garden.
• Fair board officials retain the right to close the beer garden at any time for any reason.
• The fair board can refuse beer sales to anyone for any reason.
• No ride personnel will be permitted to purchase beer.
• There will be a two-beer purchase limit at all times.
• Beer will be sold 5 p.m.-10:45 p.m. on Tuesday, Wednesday, Thursday, Friday and Monday. Beer sales will run 1 p.m.-10:45 p.m. on Saturdays and Sundays.
- Timothy Cox