Tuesday, April 10th, 2007
Cavs rally with eight in the seventh
By Mark Ruschau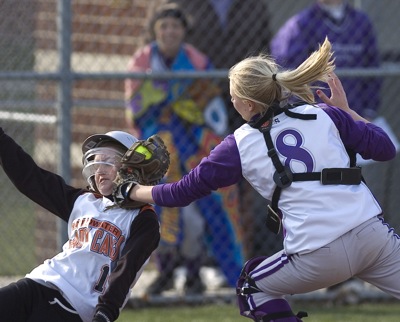 FORT RECOVERY - The Coldwater Cavalier softball team went on the road Monday afternoon and came home with a huge win scoring eight times in their last at bat to rally and beat Fort Recovery, 10-3, in the Midwest Athletic Conference opener for both teams.
Coldwater improves to 2-1 overall. Fort Recovery falls to 2-2 in all games.
Trailing 3-2 going into the seventh inning, and being frustrated all afternoon by Fort Recovery (2-2) hurler Kinsey Wenning, the Cavaliers (2-1) exploded for seven hits, including four extra-base hits to post the comeback win.
Wenning got herself into trouble starting the seventh frame as she walked the number-seven hitter, Jenna Bruns and the number-eight hitter Haley Stucke.
After Jess Welsch struck out, Cavalier leadoff batter Tasha Stucke gave her team the lead for good as she blasted a triple to the base of the fence in centerfield to make the score 4-3.
Brooke Gross made the score 5-3 as she followed with a single before back-to-back doubles by Paula Howell and Tiffany Uhlenhake made the score 7-3.
An infield hit from Robin Buschur put runners at first and third before Bruns produced the seventh run of the frame with an infield hit. Haley Stucke drove in the final run of the game with a double to the gap in right center.
"It was a matter of time before we adjusted to the pitcher," said Coldwater coach Jeff Kerr. "I was getting a little concerned that it took so long to make the adjustment to the pitcher but each inning we were able to get on her a little bit more."
"Coldwater left a great deal of runners on base early in the game but they just tagged us in the seventh inning," said Fort Recovery coach Marie Osterholt. "They weren't just little hits, they were bombs. You have to give them credit.
"I think Kinsey was getting a little tired late in the game and I guess I should have pulled her," continued Osterholt. "Both teams played a great game, we both made some great plays and both teams played the game the way it should be played."
While the big seventh inning will be the lasting memory of this game, the real story of the game was the ability of Coldwater to stay in the game despite committing six errors and giving up six hits and three walks. Fort Recovery had base runners multiple times with one out or less and were able to score in just one run each in three different innings.
"We hung in there defensively even though we gave up an error here and an error there," said Kerr. "It just seemed like the pitchers came and threw the right pitches at the right time. We got them to hit ground balls to us or a fly and we were able to get out of some tough situations."
Nine of the 10 Cavaliers that came to the plate had at least one hit, including five different players with at least two hits. Seven different Coldwater players had at least one RBI.
Coldwater returns to the diamond today as it plays host to Lincolnview in a nonleague matchup before returning to conference play on Thursday at Versailles. Fort Recovery is also in action today playing host to Jay County before traveling to Minster on Thursday for its next league contest.