Wednesday, April 11th, 2007
Roughriders softball cruises behind Thornsberry and defense for shutout victory over the Bulldogs
By Ryan Hines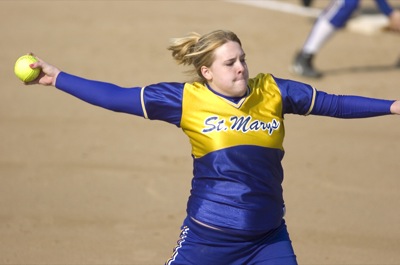 A sloppy showing in pregame carried over into the game for Celina in its Western Buckeye League opener against St. Marys on Tuesday.
The Roughriders picked up two unearned runs in the first frame before adding two insurance runs in the seventh on the way to a 4-0 shutout over the Bulldogs.
"The most upsetting thing about this is that pregame made me nervous because we didn't look good at all," admitted Celina head coach Nicole Driggs. "We weren't ready mentally for this game in the pregame and it just carried over into the game. We weren't as focused as we needed to be to beat a good team like St. Marys."
Sloppy pregame or not, St. Marys head coach Sue Grothause is happy to win the WBL opener against the defending co-champs in the league.
"This is a big win for us and to do it on the road is great," said Grothause. "We came in having nothing to lose and I think that we played that way. The pressure was on them and I think that our girls were able to relax once we got the two early runs."
The two early runs that Grothause refers to came in the first inning when a pair of Celina errors allowed the Roughriders to jump on top 2-0.
After recording the first two outs in the first frame, St. Marys' Rachel Ginter reached on an error on a routine play which would have been the third out. However, Bailey Smith then came up and hit a sinking liner into centerfield where Audrey Harner was unable to make a sliding catch.
When Ginter saw that Harner didn't make the play, she took off for third base and the throw into the infield was wild allowing Ginter to score while also sending Smith to third base. Leslie Karner then drove home Smith on an RBI single.
"We put the ball into play and they made some mistakes that we were able to take advantage of," said Grothause.
The score stayed tied at 2-0 until the seventh when Tasha Fowler, the Roughriders' nine-hole hitter, made it 4-0 in favor of St. Marys with a two-run single driving home Steph Platt and Kayla Thornsberry.
The two insurance runs were nice, but not necessary because of the play of the St. Marys defense and the pitching of Thornsberry.
"We played strong defense and didn't make mistakes in the field," said Grothause. "With being off a week, we didn't know what to expect, but Kayla threw the ball good, we played strong defense behind her and that's why we won the game."
"We're an aggressive team at the plate, and I love that, but we weren't selective today," pointed out Driggs. "We knew that she (Thornsberry) would throw a lot of rise balls and we didn't lay off of it like we need to."
Thornsberry kept the usually potent Celina offense quiet as she limited the Bulldogs to just three hits, two of which came from Laura Homan, who also was solid on the hill for the Green and White striking out 11.
"I told the girls that losing games builds character and that we need to make this into a positive because there's a lot of season left to play," said Driggs.
St. Marys is back in action again Thursday at Marion Local while Celina is off until Friday with a WBL road encounter at Van Wert.