Thursday, April 12th, 2007
Johns burst onto the scene and continued to improve as player
By Gary R. Rasberry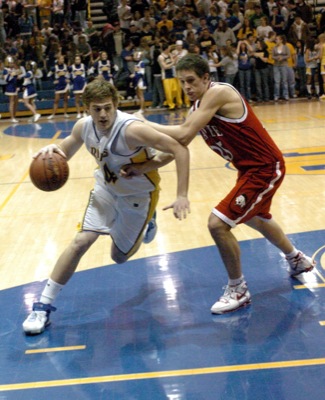 In his first varsity game four years ago, Adam Johns made an immediate impact.
Called up as a freshman due to injuries, Johns hit the winning bucket for St. Marys in a 51-49 win over Delphos St. John's at The Vatican.
It's safe to say that as the years went on, he got better.
The Roughriders' 6-6 senior center, the reigning Western Buckeye League Player of the Year, is the 2007 Daily Standard Player of the Year, cementing himself as the dominant big man in the Grand Lake area.
The go-to player the last two seasons, Johns worked hard to improve his game.
"During the summer, I worked on my outside game a little more because last year I was attacking the basket a lot and was going to the line," said Johns. "I still got to the line, but I needed to shoot outside more to become tougher to guard and harder to match up against."
Johns averaged a double-double, leading the area with 18 points and nearly 12 rebounds per game. His best game came on February 20 against St. Henry, scoring 40 points - second most in team history - in a 69-62 win at St. Henry.
"I've grown up playing with our guards," said Johns. "They saw the look in my eye where (they knew) I had it going. They were like 'All right, let's get him the ball.'. ... Once I started scoring, everyone guarded me and everyone else (on the St. Marys team) was open."
This season, he joined two other Roughrider legends - Damon Goodwin and Mark Ashman - in reaching 1,000 career points. Johns later passed Ashman to become the leading rebounder in school history.
The season, under first-year head coach Paul Sadler, had St. Marys finishing 12-8 in the regular season before losing to Elida in the Division II sectional opener at Lima Senior.
"We didn't go as far in the tournament as I would have liked," said Johns. "I had fun with it while it lasted."
His accomplishments were noticed by coaches and media, who named him a three-time Alll-WBL selection, two-time all-northwest district honoree and Special Mention All-Ohio this season in Division II. Johns also was named Academic All-Ohio in Division II.
Johns was a little surprised at being named the WBL player of the year.
"I was pretty happy with it," said Johns. "I went into the season thinking I was one of the best in the WBL, but not 'The Best' because our league is tough."
On April 22, Johns will represent the area at the Ohio North-South All-Star Classic at Capital University.
The Capital Center will become a very familiar place for Johns, having already made his intent known to play for the Crusaders. Former Roughrider Goodwin is the head coach and Cort Hamilton, who coached Johns his junior season, is an assistant coach on the team.
"It's kind of a comfort level," said Johns, who will major in accounting. "Obviously, Damon is from here. I know what to expect from coach Hamilton after he coached last year. It's a reassuring thing because I'm going to get the same kind of treatment there as I did here, obviously a little harder from the level I've been playing."

Previous Winners:
1994 - Tim Hamen, Celina
1995 - Mitch Lefeld, Coldwater
1996 - Ryan Uhlenhake, St. Henry
1997 - Ryan Uhlenhake, St. Henry
1998 - Dennis Wendel, St. Henry
1999 - Kyle Dingledine, Celina
2000 - Cory Eyink, Marion Local
2001 - B.J. Wolters, Marion Local
2002 - Todd Boeckman, St. Henry
2003 - Craig Wolters, Marion Local
2004 - Tim Homan, Celina
2005 - Dane Sommer, Minster
2006 - Kurt Huelsman, St. Henry