Wednesday, April 18th, 2007
Boeckman leads two others in OSU QB race
From Associated Press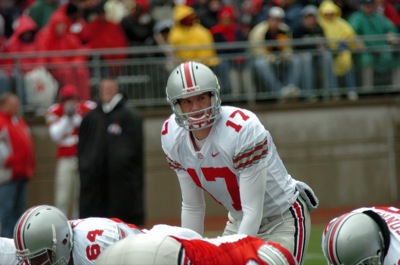 COLUMBUS - The waiting is finally near the end for Todd Boeckman.
All those days spent holding a clipboard while standing on the sideline as somebody else played and got better - those are in the distant past as Boeckman tries to strengthen his grip on the starting quarterback job at Ohio State.
"It's very tough to come out here and sit for 3, 31/2, 4 years behind a couple of great quarterbacks like Justin (Zwick) and Troy (Smith)," Boeckman said Tuesday after one of the Buckeyes' last practices heading into Saturday's annual spring game. "It's real tough to go out there and get maybe a couple of reps a day. It's tough, thinking, 'Oh, I wish I was on the field.' But I knew the situation coming in and I knew I had to bide my time. Now I hopefully can run with this opportunity."
So far, so good for the fourth-year junior who came to campus three years ago and finally gets his shot at taking over for Smith, last year's Heisman Trophy winner.
Boeckman is listed as No. 1 at the position on the depth chart. Third-year sophomore Rob Schoenhoft and redshirt freshman Antonio Henton are also in the running.
Quarterbacks coach Joe Daniels makes it clear what he's looking for on Saturday in Ohio Stadium.
"Who can lead the team, who can lead us to victory, who's going to give us the best chance to win - that's the bottom line," Daniels said.
He said he did not think anyone would win the job in the intrasquad tangle between the Scarlet and the Gray.
"Saturday? No. I doubt it," he said. "To be honest with you, I doubt it. I think it'll be into the fall camp."
But that doesn't mean that all three aren't hoping they can put on a show before a large crowd and maybe gain the inside track.
None of them has much of a college resume. Boeckman has the most playing time, but he's only thrown 10 passes (completing seven) and run four times in his shots at mop-up duty in a Buckeyes uniform. Schoenhoft got into one game a year ago, completing his only pass. Henton received rave reviews from the coaches a year ago by playing the role of quick, deceptive quarterbacks like Florida's Chris Leak and Illinois' Juice Williams in practice to prepare the Ohio State defense.
Boeckman has a 6-foot-5 frame packed with 245 pounds. Schoenhoft is 6-6 and 240. Henton is 6-2, 210 - not unlike Smith, who led the Buckeyes to a 12-0 record and the No. 1 ranking before he and his teammates were stonewalled by the Gators, 41-14, in the national championship game.
Henton realizes his toughest job is convincing the coaches that his lack of experience won't prevent him from leading the offense down the field.
"I have to get more comfortable in the huddle, to be able to look at all my teammates in the eyes and let them know that I'm a serious guy that wants to win," he said.
Schoenhoft isn't conceding anything to Boeckman. He said his goal is to be the starter.
"That's what I came here for. I came here to play," he said. "It (starting) would mean the world to me, of course. But there's two other quarterbacks here that I'm great friends with, who are equally deserving of the position."
Boeckman comes from St. Henry, the same small football powerhouse that sent another tall, strong-armed quarterback to Ohio State, Bobby Hoying.
Boeckman grew up idolizing Hoying - the way he moved, the way he treated people - and he's never forgotten what a big deal it was back in western Ohio when Hoying was calling the signals for the mighty Buckeyes.
Now he knows that, literally, the ball is in his hands. This is his chance to take the job. Even as he tells himself that the first game is still 41/2 months away, he knows that the coaches are watching and that this might be his chance to make a statement.
But he also knows that he cannot afford to try to do too much.
"You can't come in here one day, saying, 'Oh, I'm just going to be OK today and the next day I'm going to try to be great,' " he said. "Every day you've got to go out there and do your best, show the coaches that you can lead this team every day in and out."