Monday, April 2nd, 2007
Celina track has some work ahead
By Gary R. Rasberry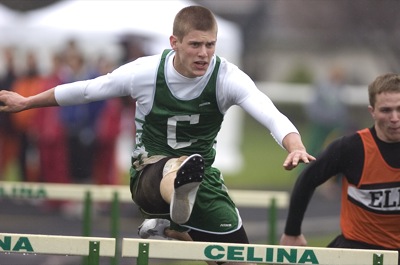 If anything could be taken away from the first big meet of the season, the Celina track program learned a couple of things during their hosted meet on Saturday.
The first is that the young boys team showed some promise and will need to continue to mature as the season goes along while the Runnin' Women, looking to win their first Western Buckeye League title since 2003, learned they have a lot of work to do.
The Celina girls placed third with 118 in the team standings behind other WBL perennial powerhouses Ottawa-Glandorf and Defiance.
"It's good for the girls," said Celina head coach Dan Otten. "We had some okay stuff. We talked about the league being tough. Defiance and O-G came out from there and I think we got our eyes awakened a bit."
The Bulldog boys were for all intents and purposes battling for second place as Defiance ran away with the boys title with 215 points. Celina had 79 and took fourth behind O-G (93 points) and Wapakoneta (81).
"This year we had three entries (per school) instead of two," said Otten. "Defiance took advantage of that. Our boys, we're not all freshman-sophomore young, but very inexperienced. Our pole vaulters are young and came through, our distance had a good day."
Celina posted a number of top finishes, but managed just one win as Kelby Rosengarten won the 300-meter hurdles. Rosengarten also finished second in the 110-meter hurdles.
Another strong finisher for the Bulldogs was Todd Hertel, who earned second in the pole vault with a top effort of 11-6.
As Otten mentioned, the distance unit shined. The Bulldogs posted a sweep of third, fourth and fifth place in the 3,200 with the trio of Issac Niekamp, Andrew Goodwin and Chris Johnson. Johnson also took fourth and Niekamp fifth in the 1,600, events dominated by Defiance.
For the Celina girls, there were plenty of runner-up finishes but no wins. Eryn Langenkamp came up with a tie for second in the pole vault - an event hampered by the rainy weather - with an effort of 9-0 and later finished second in the 300 hurdles. Julie Snyder took seconds in the long jump and 100 hurdles while Melissa Roth took a second in the 3,200 run to go with a third in the 1,600.
"That's what our girls need," said Otten. "Something to motivate. Now we know what's ahead for us. We're going to be the chaser for a while, until proven otherwise."
Celina will be back in action on Thursday, hosting Kenton for a WBL dual meet, then return the favor on Saturday by traveling to Hardin County to take part in the Kenton Relays.