Friday, April 20th, 2007
Kerr tosses a gem for Bulldogs
By Gary R. Rasberry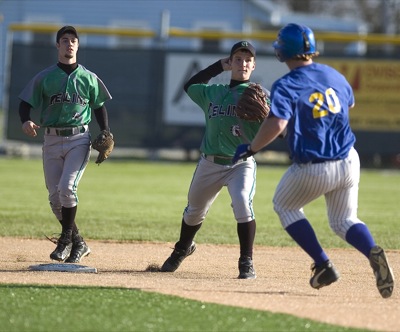 After a tough loss on Tuesday to Shawnee, Celina needed a boost to get back to winning ways.
Jeremy Kerr provided the boost, firing a three-hit shutout as the Bulldogs downed Marion Local 6-0 at Montgomery Field. Celina improves to 6-8 on the season as the Flyers drop to 7-5.
Kerr didn't overpower the Flyers in getting the win, but the southpaw forced the Flyers into a number of groundball outs. Twelve of the 21 outs were groundball outs with just one putout coming from an outfielder. The Celina defense backed its pitcher with two double plays in the game.
"We played pretty solid defense today," said Celina coach Drew Braun. "...Neither error we made hurt us. Jeremy was around the plate, throwing strikes. He wasn't overpowering, but he got the job done."
Celina also turned the tables on the Flyers in a reverse of the first meeting between the two teams during the opening week of the spring season. This time it was the Bulldogs breaking the game open early, plating four runs in the bottom of the first.
Nick Gray led off by reaching on an error and Dustin Woods was then hit by pitcher Luke Moeller. John Bonvillian followed with a deep shot to left center that hit the wall for a double, scoring both runners to make it 2-0.
After a strikeout, Eric Loughridge beat out an infield single, with Bonvillian coming home when the throw to first went into the outfield. Loughridge later scored when Jimmy Fishpaw's single to left was misplayed.
Bonvillian got the final burst of runs going in the third with a solo homer to centerfield while Loughridge singled and later scored on a wild pitch.
"You don't see the wind blowing out at Eastview too much," said Braun. "That don't hurt anything. He definitely got every bit of that."
The Bulldogs collected 10 hits on the day as Bonvillian was 2-for-3 with three RBI. Kerr helped himself out with a 3-for-3 day while Woods also collected two hits.
Marion Local coach Greg Bruns did not hide his displeasure for his team's play.
"I'd say it was a big step backwards for our program," said Bruns. "It was probably the worst game we played all year. Looked like the first game of the season, not our 12th game.
"You give any team in this county four runs in the first inning, it's going to be hard to come back from."
Kurt Homan had two of the three Flyer hits.
Both teams are in league play tonight. Celina travels to Kenton while Marion Local heads to Don Black Field to face Parkway.