Monday, April 23rd, 2007
Boeckman the leader to be next OSU QB
By Gary R. Rasberry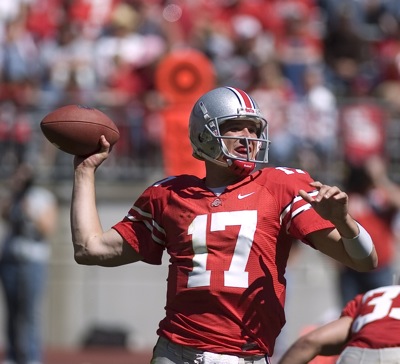 COLUMBUS - At Saturday's annual Spring Game at Ohio State, St. Henry alum Todd Boeckman was looking to make a lasting impression.
One of three that will vie for the starting quarterback job for the Buckeyes come fall, Boeckman looked to cap a strong spring practice schedule during the annual Scarlet-Gray Game.
Boeckman, Rob Schoenhoft and redshirt freshman Antonio Henton all were going to get plenty of chances to show why each deserved the job.
In the end, Boeckman had decent statistics, but it was Schoenhoft who came away with the 'W' as the Gray came back from being down 9-0 through three quarters to score 17 unanswered points picking up a 17-9 win in front of over 75,000 fans at Ohio Stadium.
Although he stressed that there are still a full slate of summer workouts and the full preseason practices to go before the Sept. 1 opener with Youngstown State, the leanings of head coach Jim Tressel right now are toward Boeckman.
"I'd say if we had a game tomorrow, that would probably be the order we put them in," said Tressel, referring to the order of Boeckman, Schoenhoft and Henton. "We'll have 29 practices that will have a lot to do with the order that we'll put them in in the fall.
"I don't know if anyone lost any ground or anyone took any steps backwards. I think the guys progressed.
Boeckman, who has been in the OSU system already for three years with two years left to play, was the signal caller exclusively for the Scarlet on Saturday while Schoenhoft and Henton played for both teams. Boeckman was a respectable 8-of-16 for 103 yards with no interceptions, but a fumble in the red zone allowed the Gray to put the game on ice.
The other two quarterbacks had lower numbers. Schoenhoft's combined numbers were 7-of-15 for 83 yards, but did throw a touchdown pass. Henton, the most mobile of the OSU quarterback prospects, was 8-of-16 for 45 yards with three interceptions, while also rushing nine times for 21 yards.
Boeckman took the field for the first time with 4:36 left in the first quarter. Boeckman, and the other quarterbacks, got to see all the pressure coming from the defense with Tressel electing not to put the black 'no-touch' jerseys on the quarterbacks. Boeckman nearly connected for six on a long pass to Brian Hartline, who could not hold on to the ball. Boeckman completed his first pass one play later on an eight-yard toss to J.D. Larson. His first series ended with a missed screen pass to make it fourth and two.
The Scarlet gave Boeckman better field position for his second drive, putting him on their own 47, but under pressure on the first play, he threw it away and was called for intentional grounding. After a run play made it third-and-10 from the 38, Boeckman found Brian Robiskie for a 40-yard pass to make it first-and-10 from the 23.
After a pass to Albert Dukes was batted away by Brandon Underwood in the end zone, OSU settled for a field goal as Ryan Petroius booted a 37-yarder to make it 9-0 with 11:47 to go in the half. Boeckman was 2-of-6 passing for 48 yards and ran for nine yards on his only recorded carry.
Schoenhoft took over the Gray for the entire second half, leading them on a tear in the fourth quarter. Aaron Pettrey nailed a 40-yard field goal with 9:47 left in the final quarter, which was reduced to just 10 minutes rather than the 12 used in the first three quarters. Four minutes later, Schoenhoft found Brandon Smith on a six-yard strike to give the Gray a 10-9 lead.
Boeckman came back in during the final quarter and went from trying to preserve a lead to having to try and lead the Scarlet back. Starting from his own 20, Boeckman led a 10-play drive that moved the Scarlet nearly 70 yards to the 11-yard line.
Rather than set up for the field goal that would get the win, Boeckman got the call to try a pass play. As he passed, he was hit by Larry Grant, dislodging the football. Grant picked up the football at the Scarlet 20 and took it back for a touchdown.
The Scarlet had 25 seconds to try and tie the game, but Boeckman was called for an illegal forward pass for going over the line of scrimmage and his other two pass attempts were incomplete to end the game.
Tressel described what he thought was good about all three candidates.
"I think the thing with Todd (is he) has a real feel and confidence on the field and a sense where everyone is. I think he's very effective. Unfortunately, it's not always that way and you have to be able to sort that out. I think he'll get better with that. I think Robbie has a little something, as Mo Wells mentioned, he's got a little leadership about him. He loves to compete and wants to be good, not to say the others don't. ... With Antonio, I think when he's good he looks good and when he errs, it hurts him. He'll learn from that."
Receiver Brian Robiskie praised all three quarterbacks.
"I think the battle for the quarterback position will continue," said Robiskie. "They all tried to get better each day during spring practices. Today might have been different since we were going back and forth. They all did a pretty good job. They are all very talented players."
None of the quarterbacks were made available to the media after the game.