Tuesday, April 24th, 2007
Cavaliers stay perfect in the MAC
By Ryan Hines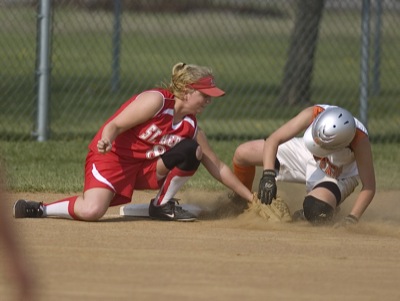 COLDWATER - Another pitching gem for Coldwater's Brooke Gross was backed by the Cavaliers offense scoring four unearned runs as the Orange and Black downed St. Henry 4-0 on Monday afternoon in Midwest Athletic Conference action.
The Cavaliers are now 12-4 overall to go along with a perfect 4-0 mark in the MAC while St. Henry dips to 6-7 overall and 2-2 in conference action.
Gross had a no-hitter through the first five innings before giving up a couple of singles in the sixth. Sarah Lefeld and Brittany Rutschilling had the two singles for St. Henry, but were stranded on base by Gross and the Cavs in the only scoring threat for the Redskins.
Coldwater was no-hit by St. Henry's Amy Uhlenhake for the first three innings, before things went south for the Redskins in the fourth frame.
Gross, Tiff Uhlenhake and Katie Muhlenkamp each reached base via singles and with two outs in the inning Haley Stucke ripped a line drive down the third-base line. The Stucke liner was hit right at St. Henry's Lefeld at third base, but the ball popped out of her glove and rolled into foul territory allowing Gross and Uhlenhake to score. Muhlenkamp then came around to score the third run when Lefeld made an errant throw to home plate.
"It was a line drive and it just popped out of her glove," said Link. "We needed to at least knock that ball down. I can see one run scoring on the play, but not the second or the third run. We started throwing the ball around like we were in junior high and we can't have defensive lapses like that. Three runs scoring on a hit to third base is unacceptable."
Coldwater added an insurance run in the sixth inning when Muhlenkamp reached on St. Henry's fourth error of the game and then came home on a Haley Stucke double.
"Haley started the year in the number-two hole, but struggled a bit, so we moved her down in the order to give her a little more confidence," said Coldwater head coach Jeff Kerr. "In the last three or four games, she's been really hitting the ball hard."
Gross was efficient on the hill again for the Cavaliers with a complete-game effort in which she allowed just two hits while striking out six and walking just one.
"She's been pretty solid for us all year," said Kerr. "She's 8-0 now and pitching really well."
Link was impressed with Gross, but also has major concerns about the Redskins' offense.
"I don't want to take anything away from her (Gross), because she hit her spots, but we seem to be making a lot of pitchers look like All-Americans right now," said Link. "We're not putting the bat on the ball like we should. It's really frustrating to watch right now and we need someone to step up."
Coldwater is back in action again on Thursday at Marion Local while St. Henry will host Minster on Thursday.