Monday, April 30th, 2007
Beware - no one in Grand Lake area is safe from identity theft
By Margie Wuebker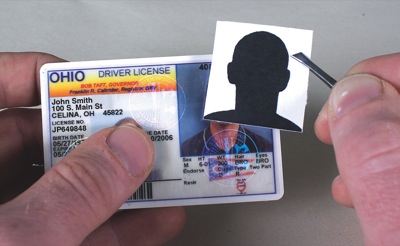 Anyone can become a victim of identity theft - a retired person down the street, a teacher at the local high school, even the wife of a sheriff.
Kay Grey, wife of Mercer County Sheriff Jeff Grey, recently joined the ranks of an estimated 27 million Americans who have become identity theft victims during the last five years. And she is one of 16 Mercer County residents victimized within a six-month period.
A Fort Recovery resident and a branch manager for First Financial Bank, she had no idea anything was amiss until a loan application for a new vehicle in late March turned up some startling information. Reports from two credit bureaus indicated an impeccable credit history; the third indicated an alarming drop of nearly 300 points from December when she co-signed a vehicle loan for her son.
Only then did the Greys remember several calls left on their answering machine earlier from a collection agency seeking a woman they did not know. They assumed the caller had misdialed, but soon learned the woman had used Kay Grey's Social Security number to secure several credit cards.
The woman, who listed a northern Ohio address at some point, reportedly ran up between $13,000 and $14,000 in credit card balances. A civil judgment for $6,451, filed by a creditor in Bedford Municipal Court, also showed up on Kay Grey's credit bureau report. She was stunned because they always pay bills promptly to avoid interest.
A reference in the credit bureau report indicated a collection agency had attempted to garnish the suspect's wages at an employer. However, the employer had no record of such an employee. Ironically, Kay Grey had worked at that company years ago.
Other similarities also showed up - the Greys have a post office box in Fort Recovery; the suspect had the same box number at a Mansfield post office. A check of law enforcement data banks revealed the suspect had used the same license number assigned to Kay's vehicle.
The Greys call the whole scenario disturbing because they have no idea how her identity could have been stolen. With a post office box, there is no mail box along the street for someone to look through. They shred all paperwork with identifying information and do not give personal information over the telephone. While other members of the family occasionally order items on-line, Kay Grey has not used the service.
Even though they have a suspect's name, it has not been determined at this point whether the person is a perpetrator or simply another victim.
"We are totally puzzled," the sheriff said. "We have no idea whatsoever how this happened but we are learning firsthand how difficult resolving the matter can be."
There have been some sleepless nights for Kay Grey. Given years of banking experience, she has found it difficult to deal with a blemished credit history that will take some time to remedy. An identity victim's passport obtained through the office of Ohio Attorney General Marc Dann affords protection against possible arrest in the event a warrant is issued against her Social Security number. Fortunately, a check with the Social Security Administration indicated nothing amiss with her account.
The investigation has been turned over to detective Chris Hamberg who has logged considerable time pursuing a trail that leads to collection agencies headquartered in Ohio, Pennsylvania and New Jersey, not to mention assorted legal forms. Thus far, the Greys have not been ordered to pay any of the outstanding credit card balances, but there is a $50 limit in terms of responsibility.
"We are certainly receiving an education through all of this," the sheriff says. "I can truthfully tell the people of Mercer County that this office will be able to handle such cases much better from now on. Sometimes good comes from bad."

Protection tips:
Here are some ways to protect yourself from identity theft:
• Do not throw out credit card statements, bills, insurance papers or bank statements where a criminal could retrieve them from the trash. If you must throw them out, first shred or destroy them.
• When making a credit card purchase from a retailer, ask for credit card carbons if the retailer is using carbonless forms.
• Reduce the number of credit cards you actively use. Carry only one or two credit cards in your wallet.
• Cancel all unused credit card accounts. Even though you do not use them, their account numbers are recorded in your credit report, which is full of data that can be used by identity thieves.

• Keep a list or photocopy of all your credit cards, account numbers, expiration dates and telephone numbers of the customer service and fraud departments in a secure place (not in your wallet or purse) so you can quickly contact your creditors in case your cards are lost or stolen. Do the same with your bank accounts.
• Always take credit card and ATM receipts with you. Never toss them in a public trash container.
• Request (in writing) that the issuer for each of your credit cards remove your name from marketing and promotional lists that may be sold or shared with other companies. Also request credit companies refrain from sending credit card convenience checks that are easy prey for identity thieves to steal.
• Watch the mail when you are expecting a new credit card. Contact the issuer immediately if it does not arrive.
• Never give out personal or financial information over the phone to anyone who calls to solicit a purchase or donation. Before making any transaction, check with the Better Business Bureau or the attorney general's office to check the company's business and complaint history.
• Be wary of anyone calling to "confirm" personal or financial information. Often, these are criminals trying to obtain those facts under the guise of "confirmation."
• Thoroughly review credit card statements, bank statements, utility bills and insurance bills/statements for any unusual activity, purchases or charges. Immediately contact the company if an item looks suspicious or if there is a purchase you don't recall making.
• For more information, check the identification theft section on the Mercer County Sheriff's Web site at www.mercercountysheriff.org.
- Margie Wuebker