Thursday, April 5th, 2007
Raterman hoping to build on junior year
By Gary R. Rasberry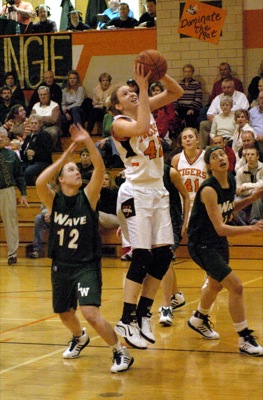 There are just some players who look like they naturally belong on a basketball court.
Justine Raterman is one of those players.
She has a storied bloodline as her older sisters were established players who took their game to the collegiate level.
While having one more year at the high school level, Raterman has shown the last several years that she'll certainly be playing competitively at the next level when that time comes.
For helping the Tigers to their first state final four in nine seasons, Raterman is named the 2007 Daily Standard Dream Team Girls Basketball Player of the Year, the first Versailles player to earn the honor.
The list of the 12 previous winners shows a number of players who shined at the college level, ranging from the first winner Sarah Puthoff (Bowling Green) to Lauren Shenk (Ohio State), Sara Heitkamp (Capital) to Krissy Haines (Ohio Dominican) and the winner of the last two years Maria Moeller (Ohio State).
"I think there are a lot of great players around this area," said Raterman. "Being raised around the Midwest Athletic Conference, it pushes you harder. It pushes me to be the best that I can be. It's a great honor."
Raterman had high hopes this season for herself and the Tiger squad. After posting 20 wins the year before and making the regional finals, Versailles returned four starters this year.
"We all remembered last season and we didn't want that feeling again," said Raterman. "From the beginning we all worked hard on what we wanted to accomplish, get back to where we were last season and take that next step. We didn't want that bitter taste in our mouth like last season."
Helping her team finish 17-3 in the regular season, the 6-1 junior had a breakout year. Only once this season did she score less than 10 points, averaging 16.1 points and 8.1 rebounds per game. From the field she shot an impressive 54.1 percent (166-of-307) and 78.9 percent from the free-throw line.
"Coming into the season, I was real excited and confident we had a real great team," said Raterman. "I think all the work we did in the summer was a big contribution to how we ended the season."
Raterman was first team All-MAC, All-Southwest District and second-team All-Ohio. She lost out on the MAC player of the year award to another leader of a state qualifying team in Nicole Wright of New Knoxville.
The Tigers lost in the semifinals to eventual Division III champs Cleveland Central Catholic. Raterman was given the task of facing 2007 Ms. Basketball Jantel Lavender on defense, holding the Ohio State signee to 14 points - seven under her average - in the state semifinal.
"To be the best, you have to play against the best," said Raterman. "That's one advantage to playing in the conference (MAC). With the schedule we have, we're playing against (the best) teams. We're prepared for the postseason, regionals and state. Playing against players of that caliber is fun."

Previous Honorees:
1994 - Sarah Puthoff, Marion
1995 - Jill Muhlenkamp, CW
1996 - Jenny Carr, Parkway
1997 - Kim Luthman, Celina
1998 - Lauren Shenk, Minster
1999 - Michelle Hart, Celina
2000 - Jill Buschur, New Bremen
2001 - Kelly VanderHorst, Celina
2002 - Sara Heitkamp, FR
2003 - Sarah Poling, St. Henry
2004 - Krissy Haines, St. Marys
2005 - Maria Moeller, Marion
2006 - Maria Moeller, Marion