Saturday, April 7th, 2007
Suspect arrested for murdering woman
By Margie Wuebker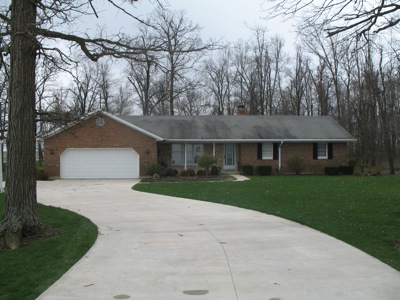 SIDNEY - A Sidney man is being charged for aggravated murder, kidnapping and rape of an 84-year-old Fort Loramie woman who was reported missing Thursday afternoon.
During a press conference Friday night at the Shelby County Sheriff's Department, it was announced Chris L. Harris, 32, is in the custody of law enforcement and is the sole suspect in the murder of Victoria M. Eilerman, 84, 7790 state Route 705.
Eilerman's body was found around 10 p.m. Friday in rural Shelby County, about one mile from the sheriff's department.
Harris is expected to appear in Sidney Municipal Court first thing Monday morning and the case then will go to Shelby County Common Pleas Court for presentation to a grand jury. Through a negotiated plea agreement, Harris will plead guilty to the murder, kidnapping and rape charges, according to Shelby County Prosecutor Ralph Bauer.
As part of the agreement, the prosecution will not seek the death penalty. Bauer did say the seriousness of these charges will lead to Harris spending the rest of his life in prison.
Eilerman, who lived alone in the country, had plans to pick up her sister for a card game early Thursday afternoon. When she did not arrive, family members were called and found blood and signs of a struggle in her home. Shelby County Sheriff Kevin O'Leary said Eilerman made a cell phone call for help to 911 at 1:50 p.m. Thursday from the trunk of Harris' car. She was using a pre-paid cell phone she had in her pocket. The phone did not have Global Positioning Satellite tracking capabilities, the sheriff said.
Authorities could hear everything Eilerman said, but they could not communicate with her, O'Leary said. She told them she did not know the man and that he had promised to take her home, but she realized he was not going to keep his promise.
Two additional calls for help were made by Eilerman.
O'Leary said they have learned that around 3 p.m. Thursday, Harris drove his Chevy Caprice into a wooded area along Lochard Road, about 7-8 miles east of Eilerman's home. Harris drove the vehicle 100 yards into the woods, where the vehicle got stuck in the mud. After killing Eilerman, he reportedly hid the body beneath logs and tree stems and walked to his brother's house nearby.
Then on Friday, Harris reportedly drove back to the scene in his girlfriend's car, retrieved the body and drove to the location where deputies Friday night retrieved the body.
O'Leary said the sheriff's department received a tip about the wooded area along Lochard Road, and when they arrived Friday, they found the vehicle, but no body. They also found blood and signs someone was dragged in the woods.
Family member were notified at 3 p.m. Friday that deputies had a suspect and that their mother was dead.
O'Leary called Eilerman an amazing woman. He described her as "an honorable lady who would never harm a hair on anybody's head."
Harris reportedly told authorities he was burglarizing homes that afternoon and had entered Eilerman's home through an unlocked door and then encountered her in her bedroom. O'Leary said the crime then escalated from burglary to rape to abduction and later murder.
O'Leary said Harris has a criminal record and has spent time in prison, but he did not elaborate on the record. He also said Harris, who is 6 feet 2 inches tall and 180 pounds, did not know Eilerman, described as 5 feet, 6 inches and 130 pounds. Harris reportedly picked her home randomly.
Authorities suspicion Harris was under the influence of alcohol and drugs at the time of crime.