Saturday, April 7th, 2007
Students feel cheaters should face harsh consequences
By Margie Wuebker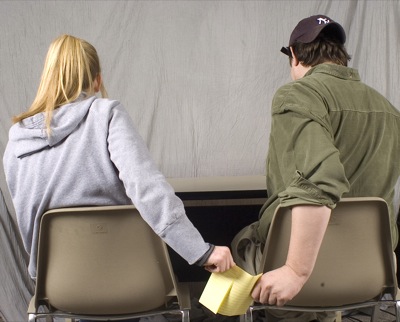 MINSTER - Anita Uetrecht issued a challenge to her Life Choices classes at Minster High School several months ago - conduct a survey on a topic that affects local students, tabulate the results and prepare a presentation for school officials.
"People were tired of exploring the matter of drinking," Courtney Wente says as fellow classmates nod in agreement. "We wanted to look at something new."
The nine-member class decided on the topic of cheating and drafted 16 questions for parents, with 320 surveys distributed to homes throughout the school district. The effort drew 50 replies with one form yielding responses from both parents.
"The mom and the dad each offered a perspective," Alyssa Brown says. "And their responses were different."
Student surveys at the middle and high schools were distributed and collected during designated class periods with 196 forms coming from students in grades 6-8 and 224 from freshmen through seniors.
The students found that 56 percent of responding parents consider cheating a problem in the district while 23 percent either don't know or don't think so. Two to 4 percent believe it occurs only at the high school level.
However, 75 percent of responding parents say their children do not cheat while 12.5 percent suspect they do. Another 12.5 percent either don't know or don't think so.
At the high school level, 95.3 percent of respondents have cheated at some time with 16 percent doing it on a regular basis. Another 4 percent claim they have never cheated. As for feeling guilty, 55.6 percent admit they do while 44.4 percent indicated they do not.
Reasons why student cheat include: don't have time to study or forgot to study, 59 percent; don't comprehend the information, 44.4 percent; the test is too hard/don't feel like it's worth taking/too lazy, 33.3 percent; and everyone else is cheating, 20.1 percent.
At the middle school level, 69 percent of respondents have cheated, 31 percent do not cheat, 68 percent feel guilty and 32 percent do not.
Their reasons include: don't comprehend the information, 44 percent; don't have time/forgot to study, 34 percent; everyone else is cheating, 13 percent; and test too hard, not worth trying/lazy, 8 percent.
Methods cited by students include copying someone's homework, writing answers on something, cheat sheets telling questions or answers to someone before a test, looking at someone's test and use of cell phone to text message or take a picture. Additionally, middle school respondents reported using an older sibling's or upperclassman's work from the past to get answers.
In addition to tabulating answers, the Life Choices class also obtained policies on cheating from school districts in Auglaize, Mercer and Shelby counties.The policy statements are similar but some districts have censures that range all the way up to expulsion.
Minster's Student Code of Conduct states "Any student discovered in possession of another student's work, in possession of teacher's material or using a cheat sheet or crib sheet may be considered guilty of cheating." Consequences range from verbal or written reprimands to a zero grade or Saturday school.
"We have a policy here at Minster, but it is not enforced very well," Brown says amid a chorus of "That's right" from those seated around the classroom table.
Teachers often warn "Keep your eyes on your own paper" during tests with violators sometimes having test papers or assignments confiscated, the students say.
While formulating a report for future presentation to the board of education, school officials, the student advisory committee and the student council, the class has proposed additional consequences including parental notification, meeting with an administrator and suspension.
"I hope we see some action," student Dottie Goebel says. "We know we can't curb cheating entirely, but we certainly can raise awareness."
Among the conclusions Uetrecht reviewed is one from an unidentified class participant simply stating, "This is all there is to it ... students have to learn that they are only hurting themselves by cheating."