Friday, May 4th, 2007
Three-way tie for first in MAC softball race
By Ryan Hines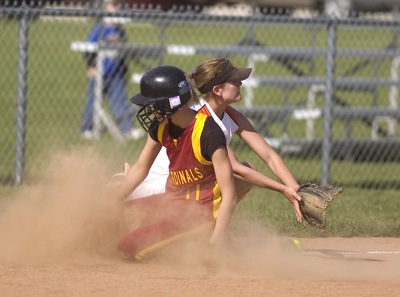 NEW BREMEN - It looks like the Midwest Athletic Conference softball title is a three-team race now thanks to New Bremen.
The Cardinals knocked off a previously unbeaten MAC team for the second straight day on Thursday as New Bremen shut out Coldwater, 5-0.
There's now a three-team cluster a top the MAC standings as New Bremen, Coldwater and Parkway all have one loss in conference play.
"Coldwater was the front-runner in the league and we knew that if we want a shot at winning the league that we had to win this game," said New Bremen head coach Craig Griesdorn. "Three teams in a log jam, but we control our destiny. I told the girls earlier in the year that one or two losses could still win this thing (MAC title). That's the way it has been the last four or five years."
New Bremen, which handed Parkway its only league loss on Wednesday, lost its first MAC game of the season to St. Henry before winning five straight.
"The last two nights we've gotten off to fast starts and played errorless softball on defense and those are two big keys for us," said Griesdorn.
Coldwater committed three errors and all three defensive miscues led to unearned runs off Cavs hurler Brooke Gross. The Cardinals also tagged Gross for six hits and two earned runs.
A missed call by the umpiring crew dug a hole for Coldwater right off the bat. New Bremen's Sara Rutschilling singled to leadoff for the Cardinals and Kim Thobe tried to sacrifice bunt her to second but Coldwater catcher Tiff Uhlenhake threw the ball into rightfield leaving the two Cardinals at second and third.
Thobe's bunt hit Uhlenhake's chest in foul territory buut both umpires failed to see it allowing the play to continue, instead of it being just a foul ball. Maria Staton brought Rutschilling h ome with a fielder's choice for a 1-0 lead.
Another unearned run for New Bremen came in the second frame after Stephanie Winner tripled to the fence in left-centerfield. Kate Wente then grounded straight to Gross on the mound and caught Winner lurking off third base, but the Cavs hurler made an errant throw allowing Winner to stroll home.
New Bremen got itts two earned runs in the third inning off an RBI double from Staton and a sacrifice fly from Tilor Rohr. Wente drove home the final run of the game in the sixth frame with an RBI single.
The five runs of offensive support was more than enough for Staton on the hill. Staton allowed a leadoff single to Tasha Stucke in the first inning and a single to Uhlenhake in the seventh for the two-hit shutout.
Stucke made it to third base for Coldwater in the first, but the Cavaliers only had one baserunner advance past first base the rest of the way.
"It was a great team effort tonight because of the play of our defense and the way that everyone contributed on offense and defense," said Griesdorn. "Maria mixed them up with her pitching, but they (Coldwater) put the ball into play and then we made the plays defensively."
New Bremen (12-5, 5-1 MAC) will look to clinch at least a share of the MAC crown on Monday at Minster. The Cardinals will face Spencerville on the road in a nonleague contest today before starting postseason play on Saturday at New Bremen versus Minster.
Coldwater (13-6, 4-1 MAC) has a bye in tournament action this weekend with its only other scheduled game set for Friday May 11 against Parkway (10-5, 5-1 MAC). The Cavaliers also have a MAC contest against Marion Local to makeup.