Saturday, May 5th, 2007
Minster cruises by DSJ for 18-0 mark
By Gary R. Rasberry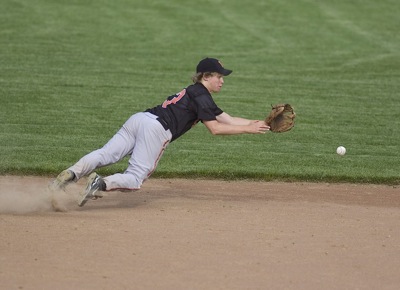 MINSTER - Senior day proved to be another happy outing for the Minster Wildcats as the Midwest Athletic Conference leaders stayed perfect with a 14-4 five-inning win over Delphos St. John's at Hanover Street Park on Friday.
The Wildcats (18-0, 7-0 MAC) took another step closer to securing their first conference baseball title in 32 years. Minster can clinch at least a share of the title on Monday with a win over St. Henry at Hanover Street in a makeup game. The Wildcats wrap up league play on Tuesday at New Bremen.
The Blue Jays, having their tournament opener today, chose not to go with ace Nick Johnson on the mound. In the first inning, though, Nate Jones had a bit of Johnson in him in retiring the side in order.
Minster, trailing 1-0, went to work in the bottom of the second inning on Jones. Andrew Baumer led off with a double, but still stood on second after a pair of outs were recorded. Brian Mueller drew a walk to bring up big brother Dan Mueller and with Baumer now at third and Brian Mueller on first, Jones was called for a balk scoring Baumer to tie the game.
Dan Mueller brought home Brian with a single to put the Wildcats in front. Zac Boeke flied to right, but the fielder dropped the ball to leave all hands safe. Aaron Heitbrink started a run of three straight doubles for the Wildcats, with Bob Inskeep and Eric Bernhold following up to make it 5-1 and prompting Blue Jay coach Dan Metzger to pull Jones for Bob Koester after Jones walked two more batters to load the bases once again. Koester allowed singles to Brandewie and Brian Mueller to round out the 14-batter, eight-run inning.
"Delphos came in with an attitude that they were going to take it right at you. You're going to get peoples' A-Game," said Minster coach Mike Wiss. "To go down 1-0 is a credit to Delphos. It's also good for us. Somewhere inside, you have to reach down inside and play a little harder. Don't take anything for granted."
From there, Wildcat starter Allan Heitbrink settled down after allowing three hits and a run in the top of the first. Heitbrink struck out six and walked none in four innings of work, giving up just six hits total in the game.
"Allan came back in the second inning and had a better second inning pitching," said Wiss. "To our credit, we got better swings. Two-out hits were good tonight. More often than not, it's been important to our success."
Minster added three runs in the third and one more in the fourth inning as all but one spot in the lineup scored a run in the game.
St. John's tried to stave off the run rule in the top of the fifth trailing 12-1. Jimmy Stechschulte, who with Dan Mueller, Inskeep, Bernhold, Boeke, Brandewie and Alex Monnin were honored after the game as the Minster seniors, ran into a little trouble with a pair of walks, two sacrifice flies and a double by Johnson that made the score 12-4.
Minster looked to get two runs in the bottom of the fifth to end the game and got help when Koester and Scott Buescher had trouble finding the plate. Minster drew five straight walks in the fifth, bringing in two runs to end the game.
Aaron Heitbrink, Inskeep and Bernhold each had two hits, with Inskeep driving in three runs.