Tuesday, May 8th, 2007
Eleven children keep mom running
By Margie Wuebker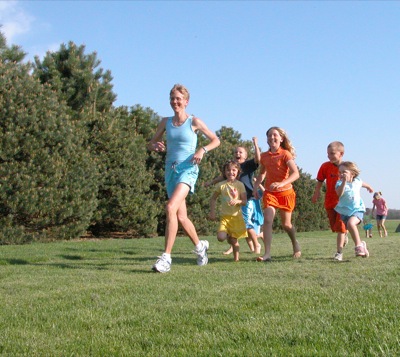 COLDWATER - The words spoken in awe as a new mom and dad counted each of their son's fingers and toes in an austere hospital room turned out to be strangely prophetic.
"I wouldn't mind doing this 10 more times," Rich Seas told his wife Lorna after 27 hours of labor.
Chuckling softly at the memory of what transpired 14 years ago, she admits, "Those were not the words I wanted to hear at the time, but things have a way of happening."
Firstborn Ryan Andrew, now 14 years old, has plenty of company as the Seas family grew steadily over the ensuing years to include: Michael Alan, 13; Christina Marie, 11; Lauren Elizabeth, 10; Daniel James, 9; Matthew Paul, 7; Jennifer Nicole, 6; Stephen Anthony, 5; Katelyn Ann, 3; Samantha Renee, 1; and Nicholas Alexander, 6 months.
Large families, so common in bygone times, now draw considerable interest as well as questions from curious onlookers.
"Are all those children yours?" is an inquiry the couple hears frequently. More times than not it is followed closely by "Are you planning to have more?" or "How much do you spend for groceries?"
Devout Catholics, the Seas consider each of their 11 children a special gift from God.
"Each is different in his or her own right," Lorna Seas says. "Some stir up more problems than others, but each brings different qualities to our family."
Lorna Seas, who worked as a dietitian following graduation from Indiana University, has settled into the role of stay-at-home mom. Although busy from morning to night, she finds time for things like predawn runs through the countryside and colorful flower beds dotting their Kuhn Road lawn.
Following an example provided by her own mother (Mary Etta Eyink), she takes full advantage of opportunities to talk one-on-one with the older children and read to the younger ones. Playtime also is important whether it entails artistic drawings, board games, hide and seek or going to the pool on a summer afternoon.
"Fall is the craziest time with the older boys in football and kids in several soccer leagues," she says. "I used to load up everybody in order to go somewhere; now the older ones can baby sit the younger ones."
Her day begins at 5 or 5:30 a.m. with a brisk "sanity" run or a workout on an elliptical machine. Then comes the first of what could be anywhere from five to eight loads of laundry. Rich Seas, superintendent of Coldwater schools, also is up and about washing and drying the inevitable stack of nighttime snack dishes. They set the table, pour glasses of juice and gather up cereal boxes to speed the selection process.
Their partnership entails everything from bathing and diapering to overseeing homework and folding laundry.
"You have to make allowances with a large family," he says, pointing to a line of collapsible cafeteria tables that replace an outgrown dining room set. "Sure simplifies the matter of daily mopping."
Their home purchased in 1999 came with three bedrooms and three bathrooms. More bedrooms have been added in the basement where furnishings include bunkbeds - regular as well as double-bed size - with more room to grow if the need arises.
A new 15-passenger van shares space in the driveway with bicycles, tricycles, wagons and a fleet of ride-on toys. The van became a necessity with Nicholas' arrival because the older 12-passenger model could not hold everyone legally.
"I guess our next vehicle will be a school bus," 13-year-old Michael proclaims as his siblings giggle.
A large vegetable garden and rows of fruit trees yield produce for the dining room table as well as the freezer. The family also raises strawberries, blueberries, gooseberries and raspberries.
Lorna Seas prefers to make meals from scratch, pointing out it would take far too many box mixes to satisfy her hungry crowd. Even the preschool youngsters are adept at breaking eggs and wielding the mixing spoon with finesse.
"My wife is a saint," Rich Seas says. "She goes above and beyond the call of duty, even home schooling our children in religion on Sunday."
He grew up in St. Marys and she hails from the Celina area, but they enjoy living in the Coldwater area, pointing out the Grand Lake area is a good place to raise their family.
"You know it's hard to believe a Roughrider married a Bulldog," Rich Seas says as his wife nods in agreement. "And now we're raising a clan of Cavaliers."