Monday, May 14th, 2007
Keeping their secrets but sharing their sauces
Celina Ribfest attracts local father-son cooking duo
By Margie Wuebker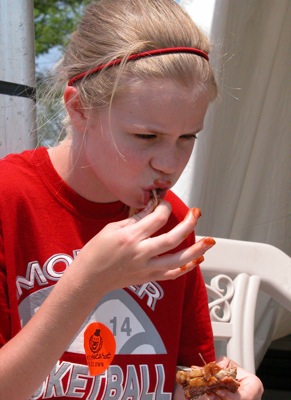 Grumpy's Barbecue, Sgt. Oink, Smokin' Joe's Hog Wild Barbecue, Buckeye Boys and 2Willys BBQ belong to a brotherhood - one that turns out fragrant and flavorful meat slathered with secret sauce.
"Everybody who barbecues is willing to talk at least up to a point," William "Bill" Menchhofer says, gesturing to colorful stands dotting the midway at Saturday's first-ever Ribfest at the Mercer County Fairgrounds. "They're a great group of guys willing to share tips, but not the secret of their sauce or combination of spices."
Menchhofer, a retired Celina City Schools teacher, equates the code of silence to other passions. Diehard fishermen may tell you what body of water yielded a stringer of nice specimens but they never divulge their favorite spot. The same goes for mushroom hunters who visit the same general area year after year for a coveted supply of fungi.
"Sauces and spices are closely guarded secrets," he says with a chuckle. "Everybody barbecues, but sauce or spices is what sets you above all others."
Menchhofer, who specializes in chicken and pork chops, joined the barbecue circuit three years ago as a retirement interest. He began with one propane-fired grill and local engagements ranging from school events to local festivals.
Son William "Kyle" Menchhofer, a teacher with the St. Marys City Schools, has joined his father in business and they keep busy from early spring through fall as 2 Willys BBQ.
Through countless hours of research as well as considerable trial and error, they have arrived at products that keep customers coming back for more.
"You can go anywhere and find barbecued chicken," Bill Menchhofer says. "Beef and pork are another thing entirely."
The Menchhofers have added a smoker to their arsenal that now includes two large charcoal grills for chicken plus a state-of-the art wagon complete with three individual propane-fired, stainless steel grills like those installed at military bases throughout the country. Even the presidential retreat at Camp David boasts one. The equipment has led to the construction of a large storage barn.
With the smoker, the business will expand to include ribs, briskets and even pulled pork and beef after experimentation. They describe Tom Brown, owner of Tony's Pizza & Ribs of Findlay, as a godsend who encourages their efforts.
"Everyone has different tastes," Kyle Menchhofer says as his father nods in agreement. "Some like a sweeter flavor, others prefer more spice. It becomes a fine balancing act."
The father-son duo introduced pork chops on a stick last year at festivals including the Immaculate Conception Parish Picnic. The individual cuts contain a bone that effectively serves as a handle - an idea picked up at the Iowa State Fair.
"The pork chops sold out in no time flat at the church picnic," Bill Menchhofer says.
The team served up 6,000, 10-ounce pork chops in 2006 and contracted for 9,000 this year. Approximately 10,000 chicken halves grace their grills each year. The work entails a hard-working crew, which includes friends and even students of the Menchhofers.
Bill's wife, Judy Menchhofer, also a retired teacher, has a festival-oriented interest of her own. She has a concession trailer and sells homemade ice cream also under the 2Willys name. Some of the equipment was purchased from Jerry Mease, a longtime ice cream maker from Tiffin, and the oak barrels from an Amish dealer in Kidron.
"People listen for the John Deere engine," Bill Menchhofer says. "They know the sound means homemade ice cream."
Mease and his wife spent an entire Sunday afternoon giving the Menchhofers a crash course in the intricacies of creating the cold treat and then came to Celina later to offer support during the busy Lake Festival.
"I love doing this and meeting people," Judy Menchhofer says dipping a generous portion of vanilla ice cream for an excited youngster. "I can set my own time although the busy season is quickly approaching."
She and longtime friend, Carolyn Leffler, are also taking 2Willys to a new level that incorporates their love for cooking. The catering business allows them to cook and decorate for all types of events from weddings and anniversaries to graduation and corporate functions.
"People will tell me they have thought about doing something like this," Bill Menchhofer says. "My advice is don't be afraid to do your homework and then jump in."