Tuesday, May 15th, 2007
Cavaliers polish off Rangers in five innings
By Mark Ruschau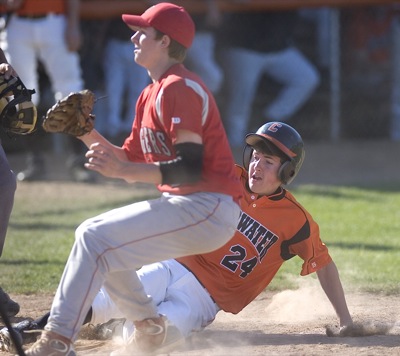 COLDWATER -The Coldwater Cavalier baseball team took care of some unfinished business as they completed their Midwest Athletic Conference schedule by run-ruling the New Knoxville Rangers, 13-2, in five innings Monday afternoon on Senior Day at Veterans Field.
Coldwater closes out conference play in second place with an 8-1 mark and moves its overall mark to 20-5. New Knoxville ends its league season at 0-9 and finishes the spring campaign at 5-15.
"It was one of those Monday games for us. This season we have lost two games on Monday because we were just not able to finish the games," said Coldwater coach Brian Harlamert. "Tonight we started the game sluggish but obviously we were able to put together some good swings."
The Cavaliers did indeed start out sluggishly as New Knoxville was able to put up a pair of runs in the top of the first off pitcher Corey Klenke. Jacob Lawler reached on an infield hit to start the game, Caleb Allen then plated Law-ler when his single was misplayed in leftfield. Brad Piehl scored the second run of the frame with a single.
That was to be the extent of the Rangers' offensive production for the rest of the game off a trio of Coldwater pitchers. After the first inning, New Knoxville got just one hit and no runs off Tyler James in two innings and Brad Brunswick completed the game with a scoreless frame.
In all, Coldwater pitchers allowed just five hits, no walks, while striking out nine Rangers.
"We wanted to start Cory Klenke tonight and get him two innings, because he might be our starter come Saturday," commented Harlamert. "We did not want him to throw too much, we wanted him to get some pitches and innings in. We wanted to get some other players in and this was a game that we had to get and go from there.
"We had a big emotional game Friday night and to be off the weekend and come back on Monday we knew we would be a little sluggish," continued Harlamert. "The bottom line is it was a win."
After a sluggish start offensively, the Coldwater bats came to life and proceeded to pound a trio of New Knoxville pitchers for 11 hits, including six for extra bases. Ranger pitchers also contributed nine walks of which four came around to score.
Klenke led the offensive attack for the Cavaliers as he went three-for-four with two home runs, a triple and drove in four runs. Wenning was 2-for-3 at the plate with a home run and three RBI.
Coldwater quickly tied the game in the game in the bottom of the first, Klenke led off the inning with a single and Riley Muhlenkamp followed with a one-out walk. Keith Wenning and Sam Slavik then each followed with run-scoring singles.
Coldwater took the lead for good in the second inning, score three times. Tony Harlamert singled with one out and rode home on the first of Klenke's home runs. Tyler James followed Klenke's blast with a drive of his own tripling to the deepest part of the park before scoring on a Muhlenkamp sacrifice fly.
Coldwater is back in action tonight as it plays one last tuneup against Fort Recovery prior to their district tournament contest on Thursday at Elida against Patrick Henry.