Thursday, May 17th, 2007
It's an all-MAC district final
Fort Recovery to meet Minster in Coldwater on Friday night
By Gary R. Rasberry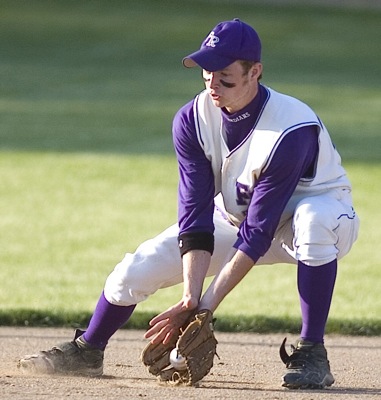 COLDWATER - It will be a pair of Midwest Athletic Conference teams that will battle it out in the district final on Friday night after action on Wednesday at the Division IV district semifinals at Coldwater's Veterans Field.
Minster, coming off its first loss of the season on Monday, struggled early against Ottoville before coming back to beat the Big Green 9-2 to advance to its first district final since 2004.
The Wildcats will be joined by Fort Recovery, which run-ruled Antwerp 11-1 in six innings during the nightcap.
The two MAC teams will meet Friday in Coldwater at 7 p.m. in the district final with the winner advancing to Huber Heights next Thursday in the regional tournament.

Minster 9, Ottoville 2
It took some time for the Wildcats to get warmed up against the Big Green.
The first two innings saw Minster struggle against Ottoville starter Ryan Gasser, managing just one hit in the first two times up.
The Wildcats' defense was unusually sloppy, making errors on the first two plate appearances Ottoville had, resulting in an unearned run in the first inning and an earned run in the second.
But things quickly righted for Minster in the top of the third when the Wildcats began their second go-round against Gasser. A wild pitch from Gasser allowed Dan Mueller to score, then a double by Aaron Heitbrink scored Zac Boeke to tie things up at 2-apiece.
"One of the most important things that we did in the game was to get out of the second inning with a doubleplay ball," said Minster coach Mike Wiss, referring to the 6-4-3 double play that ended the inning. "More often than not, if you make a defensive play, that defensive play leads to runs."
The scenario rang true as Minster broke the game open with three runs, all with two outs, in the top of the third. Brian Mueller drove in Vince Fullenkamp on a single that got past the centerfielder, allowing Jimmy Stechschulte to score making it 4-2. Mueller later scored on a wild pitch to make it 5-2.
The final blow came in the fifth when Minster sent 10 men to the plate and scored five times. Another Ottoville error allowed two runs in with Dan Mueller driving in another run.
After allowing the two runs in the first two innings, Minster starter Bob Inskeep settled down to keep the Big Green off the basepaths. Inskeep ran his record to 8-0 this season with six strikeouts and two walks.
Dan Mueller and Eric Bernhold went 2-for-3 with a run scored and RBI.
"Some of the accolades we've received (including finishing the season number one in the coaches' poll) here recently, you're going to get everyone's best shot," said Wiss. "It took us a couple of innings to settle down, get the idea where we're at out of the way. This is our first time in the district in three years.
"Ottoville is pretty darn good. Coach (Big Green coach Anthony Castronova) said that Gasser's arm didn't feel too great after 50-60 balls. That's a good group of kids. He has nine sophomores over there (five of which started and another that entered late in the contest) that are only going to keep getting better."
Fort Recovery 11, Antwerp 1 (6 innings)
Pitching, defense and hitting came together to put the Indians in the district title game for the first time in a while, even longer than coach Aaron Vaughn could recollect.
"Before I came here, I knew they went, but I can't remember when it was," said Vaughn. "It feels good to get a step past where we were last year (losing in the district semifinals when it was held at the sectional site). Hopefully, we can go against Minster and put a good game together and give ourselves a chance to win."
Curt Heitkamp, the starting rightfielder for the Tribe, provided the latter two aspects of the Fort's win.
Heitkamp went 4-for-4 with three doubles, scoring three times and driving in three runs for the Indians.
More impressive was a fielding play by Heitkamp that kept the Archers from scoring a run in the third inning. With Bryson North on base, Mitch Fowler singled to right. North came around third and tried to score, but Heitkamp made the play and fired a laser to Bobby Rammel behind the plate. Rammel in turn fired to Tony Diller, who tagged North as he tried to get back to third and avoid the rundown.
"Curt has been huge for us in the sectional and district," said Vaughn. "He's thrown out guys at third and home. That was a great throw just to keep the guy in no-man's land. That was a huge momentum stopper right there. They get a couple runs, you don't know what will happen."
The pitching belonged to super freshman Greg Kahlig, who remains unbeaten in varsity action this season, scattering eight hits over six innings and walking just one batter while striking out five.
"I thought Greg did a good job pitching," said Vaughn. "Bobby called a great game behind the plate and we got some clutch hits when we needed them. We did a great all-around job."
The defense made the perfect curtain call in the final inning as the Archers looked to extend the game to a seventh inning with runners on first and third with one out. Tom Derck grounded a shot to Tobe at short. Tobe ran to second and fired to first to complete the 6-3 double play to end the game.
Now Fort Recovery gets a rematch against Minster. In the league meeting earlier this spring, the Wildcats beat the Indians by a 10-0 margin.
"Hopefully it's a good ballgame and we give ourselves a chance to play good defense, get a couple clutch hits and see what happens," said Vaughn.