Monday, May 21st, 2007
Complete collapse for Coldwater in seventh
By Gary R. Rasberry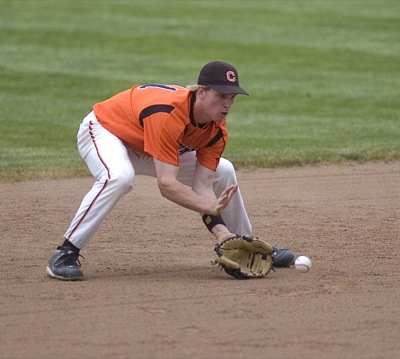 ELIDA - The wheels fell off. The train came off the track. The roof caved in.
Pick a cliché. All would work to describe the top of the seventh inning for the Coldwater baseball team.
Leading 3-2 with three outs remaining to get, the Cavaliers looked in great shape to capture the Division III Elida baseball district title and move on to the regional next week.
Then came the time for clichés.
Ayersville scored five times in the seventh inning - all without benefit of a base hit - to come back and shock Coldwater, 7-4, at Ed Sandy Field in Elida.
The Pilots (19-5) return to Elida on Thursday for the regional semifinals. The Cavaliers, two days after no-hitting Patrick Henry, end their season a stunned 22-6.
"Five is a special number," said Ayersville coach Steve Yenser. "In our sectional final, we scored five runs against O-G in one inning. Against LCC we scored five runs in one inning and won. Today we scored five runs in one inning and win. It's amazing.
"You just never know. There's no clock in this game, that's what makes it so special. I can't be more pleased with our guys."
The dugout after the game told the story. Players sitting in the dugout and outside the grass in silence. Coldwater coach Brian Harlamert, looking for career win 201, sat and looked at the ground in the dugout.
"Look at the line. That's (13) hits and we score three runs. They get three hits and score seven runs," said Harlamert. "We had too many chances (to score)."
Everything bad that could happen did in that inning. In the previous six innings, starter Bill Geeslin and reliever Cory Klenke combined to hold the Pilots to two runs - both coming in the second inning - and three hits.
The rough times started right off when Eric Fishpaw's grounder to Tyler James at short was misplayed. Matt Brown followed with a nubber, but instead of throwing to first to get the out, the attempt to get Fishpaw at second was made too late as Fishpaw was safe on a fielder's choice.
Travis Flint bunted to move the runners up, but Klenke's throw to first was wild, allowing Fishpaw to score the tying run while also moving the runners up a base.
Harlamert wasted no time and brought in Sam Slavik, who no-hit Patrick Henry on Thursday, to try and close things out for the Cavaliers.
Preston Zachrich grounded hard to first, where Riley Muhlenkamp's only play was to the bag, allowing Brown to score the go-ahead run making it 4-3. Austin Fritz followed by getting hit by Slavik to load the bases for Rob Luderman, who hit a short chopper in the infield that brought the throw home for the force, but Flint was safe to make it 5-3.
After Slavik walked Joey Knight, Klenke came back on to pitch. Preston Carr, using a batting stance that nearly had him facing the pitcher directly, bunted, the play to first by Klenke was again wild to bring in Fritz making it 6-3 while sending Luderman to third. Logan Wolfrum then lofted a deep fly to center that scored Luderman for the final run of the inning.
In all, the Pilots sent 10 men to the plate, not collecting a hit but reaching base via walk, hit by pitch, fielders' choice and error.
"You're taught to take the outs when you get a chance," said Harlamert. "Outs win the games, and we didn't make the outs when we had to.
"When they bunt one, they're going to bunt two or three. We can't field any of them."
With all that, the game was not over as Yenser brought in Zachrich, who beat LCC on Thursday, to replace Travis Fry, who allowed 10 hits but issued just one walk in giving up three runs.
"What can I say? My little sophomore did a great job," said Yenser of Fry. "Gave up lots of hits, but we kept battling and battling."
Klenke, who homered his first time up in the game, doubled to go to 3-for-3 on the day. Muhlenkamp later singled home Klenke, who scored three runs on the day. Keith Wenning followed with a single of his own and Slavik reached on an error to load the bases for Keith Schoenherr.
Zachrich got Schoenherr to fly to short left, not deep enough to bring the run home and Ryan Geier followed a weak grounder to first, where Fritz stepped on the bag to complete the amazing comeback.
"Who'd thunk it? Get outhit 13-3 and win," said Yenser. "I told Preston yesterday that he would not come in today, and I lied. He didn't have his good stuff, but we just made enough plays that we got out of this game.
"(Coldwater) can swing the bat. Their leadoff player (Klenke) is a special player. But my guys executed."
"We knew they were going to be a scrappy team," said Harlamert of Ayersville. "They hung in there. Young pitcher (Fry) threw strikes to keep them in the game. We couldn't quite knock in out to give ourselves a little more cushion. ... You can't make routine plays, you're going to get beat."