Wednesday, May 23rd, 2007
Two years in the making
Artistic touch finishes off exterior look of new Coldwater High School
By Shelley Grieshop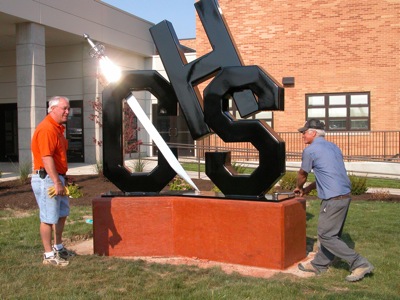 COLDWATER - It took two years to design and create but less than an hour to place the large "CHS" sculpture at its final destination on the lawn of Coldwater High School.
The 8-by-8-foot steel structure in school colors of black and orange now graces the school between a visitors' parking lot and the commons area along state Route 118. Don Desch, representing the Desch/Sowar Family Foundation that spearheaded the project, was on hand this morning as workers secured the trio of letters to its base.
"Our foundation is centered toward the arts and we thought our brand new school should have something artistic," to add to it, Desch said.
The school last fall completed a $24.9 million extensive renovation project that added space and completely updated numerous areas throughout the facility.
The sculpture, which weighs a-bout 1,700 pounds, was designed by 2004 Coldwater High School graduate and art student, Ryan Lefeld, the son of Dan and Joan Lefeld. Lefeld's design was chosen from about 20 others in a contest at the school. High school art teacher Nick Wenning coordinated the project including a "thorough polishing" of the shiny, black letters, school Superintendent Rich Seas said this morning.
But it was the Tri Star students and staff at the Dennings building in St. Marys that worked feverishly putting Lefeld's design into a suitable, architectural piece, officials said.
"There's just been so many people involved with this," agreed Desch, as well as Jim and Mary Sowar, who also were on hand this morning.
Landscape and lighting will accompany the design in the future, Seas said, adding the sculpture will be formally accepted by the school board in June.
Everyone agreed the project is not just focused on the school but signifies a community-wide effort.
"I'm not sure you can separate school and community in Coldwater, they're one in the same," Seas said. "This will be the identification of the school, representing tradition, pride and community when people walk up there and see it."