Thursday, May 24th, 2007
High gas prices impacting Grand Lake area
Local fuel costs top averages for state and nation
By Shelley Grieshop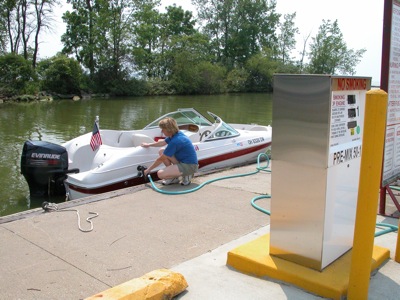 Gasoline stations aren't the only place Grand Lake residents are feeling the sting of high crude oil prices.
Farmers, retail vendors, floor installers, pizza delivery drivers - everyone and anyone who relies on transportation to make a living - are either passing on their added costs to consumers or dealing with financial losses that eat into their profits.
Record high prices seen locally this week at $3.49 per gallon for regular gasoline are infuriating drivers, especially those who must go great distances just to get to work.
"There's a lot of former Huffy people around here who have to drive a long way to their jobs because they've never been able to find good jobs here," said Janet Miller, 62, a retired Celina City Schools teacher.
Miller's husband, Joe, was one of those Huffy employees forced to go looking for work when the bicycle plant closed its doors years ago. At one point he drove to Minster and later to Sidney to bring home a decent paycheck, Miller said. She is sympathetic to others who must fork out a good percentage of their paycheck just for gasoline.
"It's awful," she said.
Although retired, the Millers are feeling the gasoline pinch, too. Traveling hundreds of miles with their camper this summer is out of the question unless gas prices fall considerably, she added.
The average price of regular gasoline across the nation today is $3.23. However, the average in Ohio is $3.36 and even higher in the Grand Lake area at $3.49.
Refinery problems in nearby Indiana and in Toledo are responsible for the Buckeye State's higher prices, oil experts have told The Daily Standard. The Whiting, Ind., refinery, which experienced a lightning strike weeks ago, is operating at 50 percent, a spokeswoman said this morning. That refinery is one of the largest in the Midwest.
Local schools, in their continuing fight to deal with decreased funding, now must battle the high cost of fuel to bus students. At Coldwater Exempted Village Schools, fuel costs for transportation have nearly tripled in three years, according to Treasurer Sherri Shaffer.
"You know, I didn't realize just how much until you asked me, but when I look at these figures now, it makes me sick," she said.
During the 2003-2004 school year, the district spent $26,147 on diesel fuel. Last year that number climbed to nearly $50,000 and the current school year's total is going to surpass the $60,000 mark, she said. The school buys its fuel from local Marathon and CW businesses, she said.
The U.S. Post Office is experimenting with hybrid models to replace their current vehicles, but Brian Schroeder of the St. Marys office said he doesn't know if that idea will ever become a reality locally. As officer in charge, his only defense against gas prices is timing, he said.
"We try to have carriers (postal vehicles) gassed up by the middle of the week because it always seems like prices go up closer to the weekend," he said.
Schroeder said there isn't much else he can do, the mail must go out. And for all the complaining he hears about the price of stamps rising recently, he asks the public to ponder this: "Every time gas prices rise a penny, it costs the U.S. Postal Service $8 million," he said.
A year and a half ago, Francis Furniture Manager Tom Muhlenkamp changed the businesses "free delivery" policy and tacked on a $25 flat rate delivery charge. He hated to do it after delivering furniture for free for 35 years but had no choice, he said.
"We had to. Gas prices were killing us," he said.
He's noticed more customers opting to pick up their furniture instead of paying the delivery charge. He's also seen a decrease in sales - something he said all retailers are experiencing and he blames gas prices.
"We're paying higher freight charges for our deliveries and we have to pass that on to consumers to make a profit," he said. "Yeah, this is a big concern."
Boat traffic on Grand Lake has decreased the last year or two and so has boat sales at St. Marys East Bank Marina, said owner/general manager Dan Manning. He doesn't think it's directly because of gas prices - boaters can spend all day on the lake and use about half of a typical 24-gallon tank, thanks to today's fuel efficient models. The real reason, he believes, is people just don't have a lot of money left over for leisure activities because of the trickle down effect of high gas prices.
"People have to make choices," he said. "I never would have thought it would affect us like this. You think if people can afford boats, they can afford gas. But it's more than that."
Just a few years ago there wasn't room in his parking lot most weekends because of all the boaters on the lake. Last year, there were only a few weekends when the lot was full, he said.
Joseph Cavanaugh, a professor of economics at Wright State University-Lake Campus in Celina, said fuel costs have decreased profitability for national retailers and can only assume local businesses also are feeling the heat.
"The fallout from all this (rising crude oil prices) has been going on for a couple of years now but I believe many retailers are reluctant to increase their prices," he said. "I think most are edging prices up little by little."
Cavanaugh, portraying optimism, said he feels the situation is temporary and expects the matter to be resolved as more refineries are built and others repaired to perform more efficiently. He also believes that if prices stay high, consumer de mand will fall and more fuel efficient vehicles will fill our highways.
"It's an individual decision to do that," he said about Americans becoming more fuel-efficient minded. "I think at some point, some people will have to rethink their strategy."

The blame game:
High gas prices have motorists and politicians pointing fingers in an effort to find out who is to blame.
Market analysts say a big problem is lack of refineries in the United States, which is responsible for tight supplies when fires or other malfunctions arise. As production falls, it immediately is felt at the pump. The last refinery built on American soil opened its doors in Garyville, La.
In 1985 there were 254 operating refineries; today there are 142. Today's existing refineries process about 17 million barrels of oil each day but Americans consume 22 million barrels, with the difference being imported, the government says.
The reason no one is building refineries include strict environmental restrictions, the high cost of construction and the "not in my backyard" mentality of residents and politicians alike.
U.S. Senator Sherrod Brown, D-Ohio, believes it's past time for the government to act.
"Oil companies are enjoying billions of dollars in tax subsidies, and once again, gas prices are on the rise, forcing middle class families to foot the bill," Brown said in recent weeks as crude oil prices began climbing. "Our government needs to stop subsidizing multinational oil companies and start investing in policies that will lower gas prices and lead our nation toward energy independence."
Brown, like many other legislators, promotes the development of biofuels such as ethanol.
- Shelley Grieshop

Driving tips:
What can motorists do?
• Keep tires inflated to recommended standards and your vehicle's engine properly maintained.
• If you have a choice, drive a more energy-efficient vehicle.
• Consolidate trips.
• Slow down. For most vehicles, fuel economy drops off significantly when traveling more than 60 mph. As a rule of thumb, each 5 mph you drive over 60 mph is equivalent to paying an additional 20 cents per gallon for gas.
• Avoid quick starts and sudden stops that waste fuel, are hard on vehicle parts and increase the odds of a traffic crash.
• Keep your eyes open for low fuel prices but don't waste gas driving much further distances to save a few cents.
- Shelley Grieshop