Saturday, May 26th, 2007
Honoring our fallen from war in Iraq
By Betty Lawrence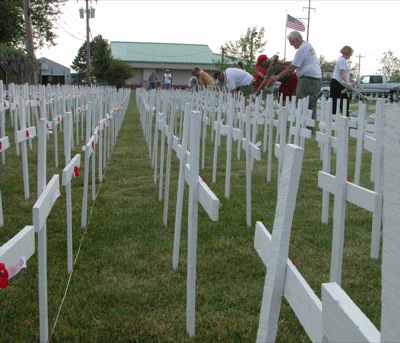 The 3,433 white wooden crosses that fill the grassy lawn beside the Celina Veterans of Foreign Wars (VFW) facility stand quietly at attention but the message each evokes speaks volumes.
The crosses represent the military men and women who have died while serving with the United States Armed Forces in Iraq. A symbolic orange poppy adorns each cross and in the front row are three black crosses, representing the MIAs in Iraq, including SG. Keith Maupin, of Batavia, Ohio, who was captured in 2004.
A podium set up beside the temporary cemetery lists all the military who have died in Iraq and words to the moving Armed Forces tribute, "IF I Die Before I Wake" fills a billboard beside the memorial display.
The display, believed to be the only one of its kind in the United States this Memorial Day holiday, will be available for public viewing from now through June 10.
Randy Petit, a Vietnam War veteran, whose son, Michael Petit, currently is serving in Iraq, watched the crosses being put up on Thursday.
"Its very difficult, standing here and seeing this," Petit quietly said.
"The crosses are something visible, something people can see rather than a number. I hope it strikes home," Taylor said Thursday as she and many other volunteers began staking out the memorial display.
It took several weeks and countless manhours for VFW members and volunteers to handmake and handpaint the crosses and yet another two days just to erect them .
"The VFW is all about our veterans and we want the boys to know that we have our freedoms because they are sacrificing everything. Look at these people, these are our people," Taylor said as the gazed over the growing cemetery. "Let us sweat a little bit and show them we're here."
The memorial display faces US 29, a major highway going into Celina and already has caused quite a stir from motorists.
"The truckers have been honking and even saluting us," Taylor smiled.
VFW member Mike Goodspeed helped make the crosses for the project, funded entirely by the ladies auxiliary.
"It made me cry while helping on the project. It was very sobering for me to realize that each cross that I, and the other volunteers cut, assembled or painted, represented a life, with dreams, a family and friends who expected to see them again," Goodspeed said.
The quiet display speaks for itself, added VFW memer John Taylor.
"When Leah first talked about this project, I thought, boy, that's a lot of man hours. But, everyone has pitched in to help and we did it," he said.
"It's overwhelming when you're cutting those crosses , handling them and start thinking, that's a solider who died."
Every person has a different take on the United States involvement in Iraq and the memorial crosses is a means of showing a united support, stresses auxiliary president Sue Schulte.
"While each of us feel differently about our role in the Middle East, we cannot forget what our fallen soldiers have done for our country," she said.
"We want everyone to view this display, in hopes that this honorarium will raise awareness of what our soldiers and their families and communities face when we send them into harms way."