Tuesday, May 29th, 2007
Cardinals fall in 3-0 shutout against Triad
By Gary R. Rasberry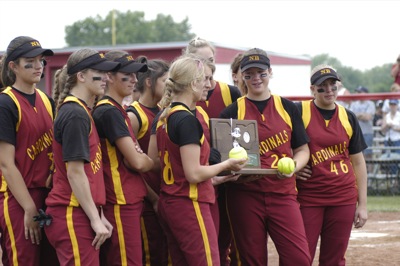 HUBER HEIGHTS - New Bremen saw its season end on Saturday as Triad and pitcher Morgan Ryan outdueled New Bremen and Maria Staton in a 3-0 win in the Division IV regional final at Wayne High School in Huber Heights.
Triad, 22-7 and the state runners-up last season, heads back to Ashland on Friday in a state semifinal contest against 22-4 Portsmouth Clay, which shut out Crestline 4-0 at the Pickerington Regional.
New Bremen, Midwest Athletic Conference co-champs and looking for a second trip to Ashland in three seasons, ends a fine season at 20-7.
Staton and Ryan put together a pair of solid gems on the mound, combining for 14 strikeouts and just one walk on the day.
One pitch Staton wished she had back came in the bottom of the second, when Kristen Cooney took a 1-0 offering over the 196-foot sign in centerfield.
Ryan got help from her defense early and often. In the top of the first, Sara Rutschilling drew a walk to start the game. Kim Thobe looked to bunt the ball, but hit a short pop just a few feet from the plate. First baseman Amy Ropp dove for the catch, then threw to a covering Sally Coleman at first to double up Rutschilling.
The biggest defensive stand came in the fourth. Rutschilling led off with a single. After Thobe popped to Ropp again for the first out, Elly Cisco reached when Ropp could not handle the throw from Hana Hay for the putout, moving Rutschilling to third. After courtesy-runner Becky Hartwig went to second, Ryan got Staton to pop to second base before Stacy Timmerman grounded back to the circle, where Ryan threw to first to get out of the inning.
"We had the people we wanted up at the plate," said New Bremen coach Craig Griesdorn. "We've come through all year. Today just wasn't our day. Have to give (Triad) credit."
"That was a key to the game," said Triad coach Shari Dixon. "Everything kind of fell into place. That's what we have to have."
Insurance, with a twinge of controversy, came in the bottom of the fifth for Triad. After Staton got the first two batters on strikeouts, Amber Herron singled to right. Hay followed with a shot to the fence in left for a double, scoring Herron to make it 2-0. Chelsie Brooks followed with a grounder to the left side of the infield and Timmerman tried to get to the ball but was slowed up as Hay went past. The ball went into the outfield and Hay scored the third run.
Griesdorn came out of the dugout to claim Hay interfered with the play. After a lengthy discussion between all three umpires, the ruling was that Hay did nothing wrong and the run counted.
"Umpire didn't think there was interference," said Griesdorn. "That's pretty much that. He thought the runner was by (Timmerman). I kind of disagreed."
Even a rain delay to start the sixth inning failed to cool down Ryan as the sophomore continued to keep New Bremen on the ropes. Ryan allowed just two hits and one walk in the game, striking out nine.
Staton, on her way to Ohio Dominican, was just as solid, striking out five and walking none while allowing six hits on the day. Brooks was the only player on either team to have a multi-hit day with a 2-for-3 performance.
"Both pitchers threw a nice game," said Dixon. "We knew coming in (Staton) wouldn't walk people. She's going to stay in there and be consistent. A good strong pitcher. We stayed in the box and hit her well."
Griesdorn wasn't bitter in defeat.
"Defensively, I thought we played very well," said Griesdorn, a reference to New Bremen's error-free game. "They hit the ball basically better than we did today. We put the ball into play, but hit it right at them.
"I'm proud of our kids. They did a great job all year. Senior class did a great job. We're 20-7(record) and we were one of eight playing today. Not many people can say that. We're proud of them."