Thursday, May 31st, 2007
Home from the war - temporarily
By Margie Wuebker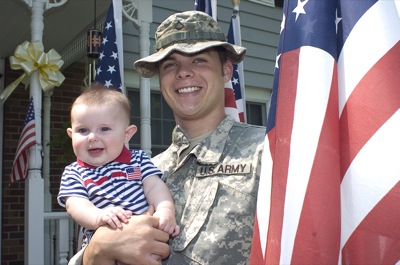 COLDWATER - Pfc. Mark Heinl smiles at the American flags and yellow ribbons welcoming him home while on leave from Iraq. However, the 20-year-old soldier finds it hard to let down his guard even when at home in the quiet Eastview Drive neighborhood.
Heinl, the son of Mark and Sandy Heinl, returns to the war zone next week as a designated marksman with the U.S. Army's Second Battalion, 12th Infantry Regiment.
"I am trained to be aware of my surroundings," he says looking around a comfortable living room filled with family pictures and mementos. "A constant state of awareness is what keeps me alive."
He is part of a 90-member force assigned to an area south of Baghdad, where gunfire and explosions erupt all too frequently. One of the major goals is securing the marketplace in Dora for vendors and shoppers alike. The crowded place filled with hundreds of outdoor booths offering everything from fresh meat to lightweight clothing is a popular target for insurgents.
The Shiite population does not look favorably on Americans stationed there. Occasionally, the soldiers see some support but such displays are short-lived in what some call Iraq's bloodiest neighborhood.
"The Shiites are Saddam's people and they don't like having us in power," Heinl says. "We try to win over their hearts and minds. People who show support get shot, blown up or tortured. We find their bodies while policing the area."
Coming to grips with the perilous situation was difficult after an initial four-month assignment in a heavily fortified "green zone." Sunni guards at a checkpoint taught him the slang version of their native language known as Baghdad Arabic. That knowledge affords added protection - like the special M-4 sniper rifle he now carries.
"I went from one of the safest areas to one of the most dangerous," he says. "Reporters and television cameras are familiar sights in Dora. They have a knack for seeking out the hot spots."
Military officials believe American forces can win over Iraqis by living among them and safeguarding the important market that is their livelihood. Heinl's platoon, dubbed Gator Company, is part of a larger group doing just that in Dora. Their outpost, ringed in sandbags, formerly served as a clinic. It has few amenities like electricity, bathrooms and air conditioning.
Braving 110-degree weather, the men don more than 90 pounds of "battle rattle" before setting out on daytime patrols. The regalia includes a flak vest and 10 magazines chock-full of ammunition. Heinl has been told the extra weight adds another 15 degrees to an already uncomfortable situation.
"Keeping hydrated is a real problem," he says. "We drink lots of bottled water before heading out and then sweat it all out."
Hydration is only a minor problem compared to improvised explosive devices (IEDs) and menacing bullets.
"Bullets come whizzing by our helmets or strike our vehicles making pinging noises," he says. "We constantly look for loose dirt because that means the possibility of an IED. Insurgents plant them in trash by the side of the road, bodies of dead animals, anything and anywhere.
Heinl looks down and shakes his head before telling of a Good Friday explosion that claimed the lives of two friends and injured four others. The 2005 Coldwater High School graduate was boarding one of the Humvees when he was told to accompany a spotter in the lead vehicle. A friend took his place in the second.
"Our Humvee headed out and then a loud explosion rocked the ground," he says. "My friends' Humvee flipped; neither of them made it. Someone had to trigger that IED - 20 pounds of C4 plastic explosive attached to a propane tank beneath a manhole cover."
A chaplain came to the Gator compound affectionately known as the swamp to pray and lend moral support. The soldiers spent the rest of the day coming to grips with the loss and returned to business as usual the next.
"You get close to the 30 guys in the unit; they watch my back and I watch theirs," Heinl says. "You tell yourself 'Don't get too close,' but that's impossible. We were hurting something terrible but we couldn't let it show. The enemy considers emotion a sign of weakness and they will use it against us."
Danger has become a way of life, particularly covert raids carried out under the cover of darkness. The young sniper and six companions head out to "acquire" a target before hightailing it back to base.
"There is a whole platoon during the day," he adds. "At night it comes down to seven of us in the middle of all the bad guys. Danger exists but you can't dwell on it. I've had to do things here I never dreamed of doing."
He carries a good luck charm on a chain around his neck. The religious medal was a gift from his grandmother Rita Heinl of Maria Stein back in junior high. During basic training when recruits are not permitted to wear jewelry or religious symbols, he had a similar cross tattooed on his upper right arm.
Heinl, who left for Iraq in mid-October and came home on leave May 20, has come to appreciate things like green grass, hot meals, quiet nights, uneventful days and simply being able to walk around the neighborhood. And he is grateful for the support of people throughout the Midwest and especially right here in Mercer County. The care packages as well as all the prayers support him in good times and bad.
Following eight more months in Dora, he will likely return to the United States to complete the remainder of 3 1/2 years active duty before heading off to college to study criminal justice and political science before hopefully landing a job with the Drug Enforcement Agency, the FBI or the CIA.
He is proud to be following in his grandfathers' footsteps. Charles Heinl served in the U.S. Navy during World War II and Richard Barna served three tours of duty in Vietnam. However, a proud heritage does little to assure his worried parents.
"It is nerve-wracking having him there," his dad says. "But we have a lot of faith in God and Mark's skills."