Monday, June 4th, 2007
Parkway's Jacob Fox wins two individual state titles
By Bruce Monnin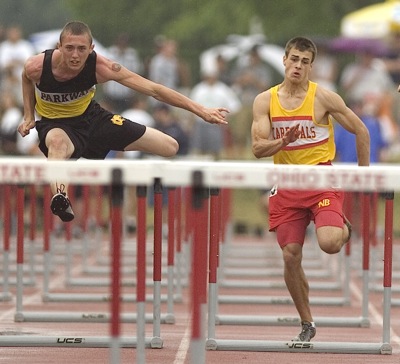 COLUMBUS - If you look at the final team standings of the Division III boys state track meet, you will notice that Parkway finished in sixth place with 25 points.
But you have to look deeper into the results of the individual events to notice that all of those points were scored by one athlete, Jacob Fox.
This was not entirely surprising as Fox had placed at the state meet last year in both the 110- and 300-meter hurdles races. Fox also had shown great potential in the long jump this season, but while he experienced great successes during the season, he also suffered some mild setbacks.
At the Cardinal Invitational late in the season, he developed a problem with his hamstring, and at last week's regional meet he suffered a hard hit from a hurdle which caused him to run times that did not bode well for great success at the state meet.
But after looking strong and healthy during Friday's preliminaries, Fox had a fantastic Saturday at the state meet, winning individual championships in the long jump and the 110-meter hurdles while adding a fourth-place finish in the 300-meter hurdles.
"I had no idea that I could score that many points," admitted Fox. "I thought I had a good chance at the 110 hurdles, but long jump and what I did in the 300 hurdles, I didn't expect that at all. I had no clue I would ever do that well."
Fox's championship day started at the long-jump pit. He took the lead after his first jump of 21 feet, 93/4 inches. But Cleveland VIlla-Angela St. Joseph's Justinn Eddie leaped 22 feet on his third jump to push Fox back to second after the preliminaries.
The fourth jump for Fox was the championship winner. As Fox described it, "Since districts, at least one person every meet has told me I jump a little bit up more than out. So I finally decided I was going to try jumping out a little more. I heard someone say 22-6, and I kind of freaked out a little bit. I hit the board really well. It was just … incredible."
The long jump at the state meet is contested along the backstretch of the track, where a line of Parkway supporters were gathered. One feature of the event is that the result of each jump is posted on a sign that originally faces toward the jumpers and then is slowly rotated toward the fans. Thus the Parkway fans seated farthest to the north could see the result first. As the sign was rotated, Fox's supporters rose and cheered just like the 'wave' going around the stands.
Fox tried to hold back his excitement despite setting a new personal record and school record.
"I realized that the other kid was also jumping 22 feet," stated Fox, "So that held me back a little bit."
Just to seal the win, on his last jump he went 22 feet, a result that would have been good enough to tie him with Eddie for the championship even without the previous winning leap.
After one trip to the awards podium, Jacob had to prepare for the running portion of the meet. The first such event is the 110-meter hurdles and it occurred soon after a storm dumped rain all over the track. Fox proceeded to earn his second state championship on the day, finishing just ahead of Waynesfield's Joe Horn and New Bremen's Bryce Bergman.
"In the 110 hurdles, everything went just great. Everything felt perfect," explained Fox. "The wet track didn't really affect me that much."
This is an event where the local competition kept Fox on his toes all year.
"We were talking about it even at district prelim qualifying," said Fox. "That us four (Horn, Bergman and St. Henry's Pat Reichert) would probably get the top three or four places at the state, and we were right."
Late in the meet, Fox got his attempt at a third championship in the 300-meter hurdles. He fished fourth, a second behind the winning times posted in a photo finish between Bergman and Columbus Grove's Heath Nichols.
After two victories, you might wonder if a fourth-place finish was disappointing, but if it was, Fox gave no such indication.
Part of his satisfaction was likely derived from the fact he ran one of his best ever times.
"I think that was my second-best time on the year, and I ran my personal record yesterday (in qualifying). Fourth place is not first, but I finished eighth last year, and this is a lot better than that."
Fox is a senior, and often seniors who do not win their events admit to disappointment at the end of their high school careers, but Fox should be able to look back on the last day of his high school track career with nothing but fond memories.