Wednesday, June 6th, 2007
Coldwater shuts out Celina ACME
By Gary R. Rasberry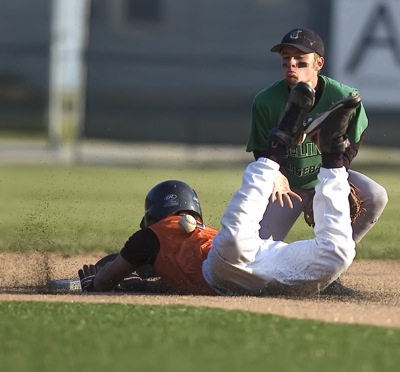 Keith Wenning fired a gem on the mound as Coldwater took advantage of six Celina errors in beating the Bulldogs, 8-0, in Mercer County ACME circuit play at Montgomery Field.
The Cavs improve to 3-1 in the season with the win as Celina drops to 1-2 after splitting a weekend doubleheader with Vandalia-Butler.
Wenning, who saw plenty of mound time in the spring as a freshman, scattered seven hits on the day while walking just one batter and hitting another. Wenning struck out nine.
"For his age, he's done very well. He has to ride his bike over here, but we pick him up at the end of the bike path," Coldwater coach Romie Schwieterman said with a grin about Wenning. "He's definitely improving every outing from spring and now. He did a nice job."
Celina coach Ron Fortkamp also had praise for Wenning.
"I thought their pitcher did an excellent job," said Fortkamp. "He has nice stuff and had us off-balance."
Coldwater got on the board in the top of the second. Keith Schoenherr led off by bouncing a ball over the fence for a double, then went to third when Kyle Ahrens' shot to third went through the wickets of the fielder.
Jordan Borgerding brought Schoenherr in with a fielder's choice. After a Bill Geeslin single, Chad Westgerdes worked the squeeze bunt to perfection, taking the out to get Borgerding in and making it 2-0.
Celina starter John Bonvillian kept Coldwater scoreless for the next two innings before his defense hiccuped in the fifth. Coldwater sent nine men to the plate, using two Celina errors in the inning to go with a passed ball and two hits to bring five runs in. All five runs were unearned to Bonvillian, who allowed just five hits in seven innings.
"Give Coldwater credit. We had the bad innings. A couple bad innings," said Fortkamp. "You can't give a team like Coldwater (anything extra). We come out, we weren't focused. We didn't play mentally tough. Coldwater did.
"I thought Johnny pitched a nice game. We didn't play defense behind him. We've got some work to do."
Coldwater got its last run in the top of the seventh when Justin Goubeaux walked to lead off the inning. After a popout from Wenning, Schoenherr kept it in the park this time around for a double to score the Cav first baseman.
Meanwhile, Wenning was in command. The Cav defense played errorless baseball as Celina could not get a runner past third base through the game.
"It was good. We had no errors our way," said Schwieterman. "We walked one and hit one. That was about it.
"Tom (longtime Coldwater ACME assistant Tom Brunswick) said 'You ever notice when the walks and stuff are down, the errors are down too?'. The players are ready to play and aren't back on their heels. They're ready to make some plays. Good overall win."
In addition to Schoenherr's 2-for-4 day with two runs scored, Geeslin went 2-for-3 and Ahrens drove in two runs.
The first two batters for the Bulldogs, Jared Bader and Brian Brockly, each went 2-for-4 in the game. The rest of the Celina lineup went 3-for-20.
Both teams are back in county circuit action tonight. Celina travels to Don Black FIeld to face Parkway while Coldwater travels to Fort Recovery.
Schedule change: Coldwater's three-team round-robin with Shawnee and Lima Central Catholic on Saturday has been changed to a doubleheader with Shawnee only. First pitch is at 1 p.m.