Thursday, June 14th, 2007
Pitching terrible again for Mariners in 17-2 defeat to Cincinnati
By Mark Ruschau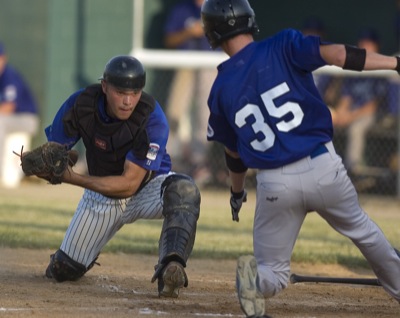 The Cincinnati Steam came to Jim Hoess Field on Tuesday night as one of the hottest teams early in the 2007 Great Lakes Collegiate League season, winners of three of their first four games, and they left Celina just as hot. The Steam took advantage of some wildness on the part of Grand Lake Mariners pitching staff and a nice outing by their own pitching corps to rout the Mariners 17-2.
Grand Lake falls to 1-4 on the summer.
"We have been able to get the big hit when we have to and our pitching has kept us in every game this season," commented Steam coach, and ex-Cincinnati Red Ron Oester. "We were able to come back from a five-run deficit the other day and their pitchers gave up some walks and we were able to get some hits and we were able to get the same thing tonight."
On the evening, a trio of Cincinnati pitchers - Matt Winter, Darren Sizemore and Robert Sabo - allowed the Mariners just seven hits and two runs. Although they struck out just six batters, the Steam was flawless in the field as they did not commit an error and turned a double play.
"We've been getting real good pitching in the games we have played this season," said Oester. "Of course you have to take into consideration that the kids are still getting used to the wooden bats, but if you throw strikes and make the plays behind them, it makes it a lot easier for them."
While the Steam pitchers were in complete control of the Grand Lake offense, the Mariners pitching staff was in trouble from the get go and they struggled all night long. Five Mariners pitchers allowed 17 runs on just 11 hits, eight of which were singles.
The Grand Lake pitching staff had control problems, however, as they walked seven batters, hit five batters and threw four wild pitches.
"Our pitching is absolutely a concern right now," said Mariners coach Scott French. "If you can't throw strikes you cannot pitch. Certainly you can win if you throw strikes. I don't know how many batters we put on, but you aren't going to win the way we pitched tonight.
"I think our pitching struggles can be attributed to two factors," continued French. "Some of these guys have not pitched in a month, so they are just getting their arms back and getting their control back and I can take that. What I will not take is any other excuse. I am fine, for right now, just running them out there, we did the same thing last year and we got better. As long as things tighten up in the next couple of day we will be okay because guys are just getting their first or second outing but when they come back to the mound the next time. I expect things to get much better."
The Steam roughed up Mariners starter Creighton McCallum as Cincinnati sent 12 men to the plate in the second inning, scoring seven runs. In the inning, McCallum hit three batters and walked three. The Mariners also committed an error which led to two unearned runs and Brandon Besl and Jason Cisper had the big blows of the inning driving in two runs each with singles.
On the offensive side, the Mariners were led by Mike Stalowy, Marc Krauss and Derek Martin, as each had two hits. Martin had the only two RBI on the night.
The Mariners are back in action on Friday at Anderson University against the Anderson Servants at 1 p.m. The next home game for Grand Lake is a non-league affair Saturday at 7 p.m. against the Columbus Hawks.