Friday, June 15th, 2007
Two area EMS squads receive 'Gotta Have Heart' awards
By Margie Wuebker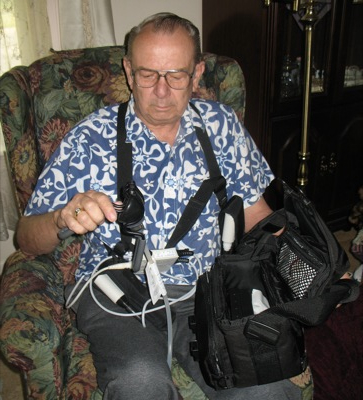 Area residents Bob Hoying and Nelson Smith belong to a select group - people who died but received a second chance to live thanks to trained emergency medical service personnel.
Each man collapsed outside as a result of sudden cardiac arrest and those who came to their assistance received "Gotta Have Heart" awards from the Ohio Chapter of the American College of Emergency Physicians during ceremonies held recently in Columbus.
Minster Area Life Squad and the St. Marys Fire Department were among 10 EMS squads selected from throughout the state for the honor.
Hoying was spending the afternoon of Sept. 27 doing yard work at his Minster home following his mother-in-law's funeral that morning. He picked up twigs and then headed toward the apple trees with a pair of buckets in hand to remove fallen fruit before mowing the lawn.
"Everything went black," the 75-year-old Hoying says. "And I didn't wake up until four days later at Miami Valley Hospital in Dayton."
Fortunately neighbor Clyde Miller was outside mowing and saw Hoying on the ground as he made another pass. His wife Jane called 911 and together they began CPR and mouth to mouth resuscitation.
Minster Police officers Brian Drexler and Doug Latimer arrived first and brought out an automatic external defibrillator (AED) hoping to shock his heart back into action. EMS personnel Scott Rodeheffer, Kevin Muhlenkamp, Dave Adams, Jerry Topp and Bob Tipton arrived on their heels to find Hoying "flat-lined" without respiration or heartbeat. One more zap of electricity re-established a vital rhythm.
"All the training prepares you for situations like this," Rodeheffer says. "Everybody has a job and you respond automatically. Bob had vital signs at that point, but they were not very good. Not many people come back from a full code."
The emergency room staff at Joint Township District Memorial Hospital in St. Marys agreed and so did Linda Emmons, a New Bremen paramedic who nominated squad members for the honor.
Thunderstorms prevented a CareFlight helicopter from responding so Hoying went by ambulance to the Dayton hospital where triple bypass heart surgery took place during the ensuing days. He was dismissed in less than a week.
"I had no indication of a heart attack, not even a pain in my chest," he says. "That goes to show how quick something can happen."
Hoying, who founded the local company Fabcor, is no stranger to medical emergencies. In 2004, he and his wife Janet were having New Year's Eve dinner at the Wooden Shoe Inn when fellow Minster resident Harold Thieman collapsed.
"I had an AED in my car because you never know when it might be needed," Hoying explains. "We shocked him once, and he came out of it. The squad got an award for that save; I never thought I would play a part in the next one."
Nelson Smith, 719 W. North St., St. Marys, was walking to his part-time job at Kerns Ford on Jan. 9 when an uncomfortable feeling swept over him.
"I couldn't go another five steps so I laid down on the sidewalk," the 66-year-old man says. "I don't remember a thing after that. People tell me I was dead and that the undertaker saved me."
Stacy Schrolucke saw Smith collapse and called 911 before she and a neighbor man rushed to Smith's aid. They turned the unresponsive man and detected neither respiration nor heartbeat as a result of cardiac arrest. Brent Miller, an off-duty paramedic and co-owner of Miller Funeral Home in St. Marys, was driving by and pulled over upon seeing the downed man. He and Schrolucke began CPR.
St. Marys firefighters/paramedics Doug Beougher, Hector Hernandez, Dave Kramer and Dave Lunz arrived within minutes and took over emergency treatment before transporting Smith to the JTDM emergency room. An emergency helicopter, which happened to be in the area, transported him to Lima Memorial Hospital.
The lead cardiologist on the case later told Smith and his wife, Pat, the odds of surviving cardiac arrest were less than 5 percent, a testament to the quick and efficient emergency care he received. Upon stabilization following a second heart attack, the patient was transferred to Ross Heart Center at Ohio State University Hospital in Columbus.
A surgically-implanted pump now controls the left side of his heart at a prescribed 60 beats per minute. The vest-type harness holds the power supply - a series of rechargeable batteries - and a nighttime power unit stands beside the bed. In the event of a power failure, a trusty black satchel holds a hand-operated pump to maintain heart function on the damaged side.
"I don't feel bad, but the doctors are talking heart transplant," the retired Minster Machine Company employee says. "We'll know more after the next cardiologist appointment in July. I am just lucky to be here."
Pat Smith calls the January scenario proof that God still performs miracles.
"Brent Miller never drives that way to work," she says. "His wife just had a baby, and he was coming from the hospital. The helicopter just happened to be in the area. Nelson would not have survived an ambulance trip at that point."
Janet Hoying agrees pointing out the angels who saved her husband's life just happen to wear police uniforms and EMS smocks.
"Help is just a 911 call away and we are so fortunate to have such highly trained people living in Auglaize County," she says. "They are lifesavers."