Saturday, June 16th, 2007
A dream come true for the two
By Margie Wuebker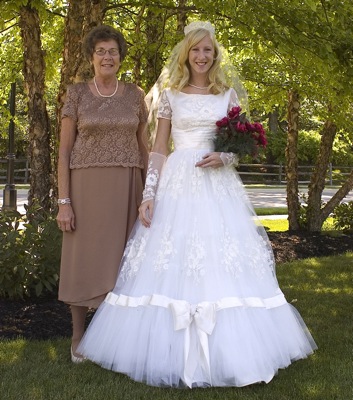 NEW BREMEN - Rita Heitkamp remembers telling the blonde-haired girl that one day she could wear grandma's wedding gown. She said excitement danced in the youngster's eyes before something else caught her attention.
Nearly 20 years passed but that special dream becomes reality later today when Loren Reineke walks down the aisle at Troy Christian Church wearing the gown purchased by her grandmother long ago in Celina.
"I was looking at gowns on line," the 22-year-old bride says. "And then I remembered what Grandma had told me."
On her next visit to the Heitkamp home, she asked to see the embroidered tulle gown carefully wrapped in blue paper and stowed in a cedar chest. The gown fit as if it had been made for her.
"I couldn't believe how well it survived all these years," Loren says. "I love the pouffy skirt; Grandma wore it over a wire hoop, but I'm using a crinoline because no one makes hoops anymore."
With one look in the mirror, she made up her mind the search for the perfect gown was over. Ironically, the selection process took much longer as the former Rita Gehret prepared for her May 7, 1958, wedding to Dennis Heitkamp.
"Everybody and their friend went to Goldstein's Department Store in Celina," she says. "I tried on five dresses there and none of them appealed to me. Harriette (Chodash) remembered a gown that had just come in and was still packed in plastic. It turned out to be my dress."
Designed by Elegante, the gown had short cap sleeves and a scoop neckline trimmed in white satin. A large bow marked the wide cummerbund while ruffles adorned the bouffant skirt that ended in a chapel-length train. The tiered veil fastened to a lace and tulle plateau trimmed with pearls and sequins. Embroidered mitts completed the ensemble.
She admits the gown's $100 price tag was a bit high considering her Post Printing Company wages - 90 cents an hour or $36 a week if she worked Saturday.
"Harriette came to the church the morning of the wedding," Rita says. "She made sure the dress was fluffed just so and the train fell in soft folds."
Rita carried a prayerbook topped with an orchid; her granddaughter is opting for a bouquet of yellow daisies.
Loren has planned everything in accordance with the old adage something old (grandma's gown), something new (slippers she purchased during a student teaching stint in Guatemala earlier this year), something borrowed (a pearl necklace from paternal grandmother Verona Reineke) and something blue (a garter).
Everything is in readiness with the gown - several tears along the illusion hemline have been repaired and the gown has been cleaned as well as pressed removing all traces of yellowing and restoring the original soft white. Although Loren will wear the same headpiece, the delicate veil has been replaced with new illusion.
She is eager to see the look on fiance Nathan Hughes' face when he catches the first glimpse of her approaching the altar. They met while attending Malone College in Canton and sharing common interests like cross country running.
"Nathan likes the idea of me wearing Grandma's dress, but he is curious about how it looks," she says. "I didn't need to go out and spend lots of money to impress him but I still want to look nice."
Rita, who has six children, 24 grandchildren and five great-grandchildren, gets a little teary-eyed while lamenting on where all the time has gone.
"It seems like only yesterday I was telling Loren about my gown," she says. "Now she is a young woman about to embark on a new chapter in life and fulfilling her grandma's special wish in the process."