Monday, June 18th, 2007
Low oxygen level kills fish
By Nancy Allen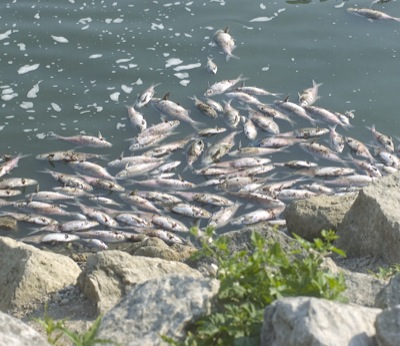 State workers this morning opened the gates at the West Bank spillway slightly to flush a small amount of dead shad down Beaver Creek. They died due to low dissolved oxygen levels.
Brian Miller, assistant manager at Grand Lake St. Marys State Park, said state workers noticed a small amount of dead fish in Beaver Creek on Sunday and a few more dead this morning.
"We did what we call a small water release," Miller said today, explaining how the dead fish were washed down Beaver Creek.
Miller explained the lake's water level is now at normal pool (level with the notch in the spillway) and no water is flowing over the spillway. When the water stops flowing over the spillway and into Beaver Creek, dissolved oxygen levels drop, the water temperature increases and the fish suffocate and die. Some suffocate in the spillway basin and some die once they get into Beaver Creek, as they obey their spawning instinct by trying to swim upstream.
"Basically the lake is down to spillway level," Miller said. "We may have to do this a couple of times this week."
State workers have had to deal with fish getting trapped in the spillway basin and Beaver Creek and suffocating almost every year since the new spillway began operating in 1997.
State workers some years ago removed a portion of a low, cement wall at the base of the spillway where the water enters Beaver Creek so the fish could more easily enter the creek. An aerator also was added to Beaver Creek a few years ago to increase oxygen levels in the creek, though the aerator has not been used in a few years.
Any spillway modifications that might help lessen or stop the fish kills have been deemed too costly, Miller said.