Tuesday, June 19th, 2007
Parkway plates two in seventh for win
By Ryan Hines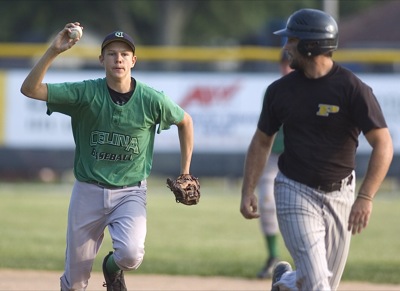 Parkway scored two runs in the seventh inning to post a come-from-behind 5-4 win over Celina in ACME action on Monday evening at Montgomery Field in Eastview Park.
It's the second time that Parkway (10-6) has beaten Celina this summer, with the first matchup being an 11-1 pasting 13 days ago in Rockford.
Celina had Parkway on the brink of defeat this time around with a 4-3 lead entering the seventh inning. However, Celina aided Parkway's comeback in the final frame.
Jeremy Kerr, the starting pitcher for Celina, threw six strong innings, but showed fatigue in the seventh frame. Kerr walked Parkway's Mike Baldauf on four straight pitches and then went to a 2-0 count on Jeremy Heiser before Ron Fortkamp limped out to the mound from the Celina dugout to make a pitching change.
"Kerr threw his best game of the summer for us by far today," noted Fortkamp, who is recovering from knee surgery. "Right at the 99-pitch mark to start the seventh inning, you could see that he was tired."
Brent Riemesch took over on the hill and was greeted by Heiser, who executed a perfect push-bunt on the right side of the Celina defense for an infield single. A Riemesch wild pitch moved Baldauf and Heiser to second and third with the always-dangerous Jensen Painter standing at home plate.
Painter, who hit .500 with eight home runs and 29 RBI during the spring, looked at strike three for the first out of the frame.
Parkway clean-up hitter Jordan Thompson came through with a sacrifice fly to tie the game at 4-4, while also moving Heiser to third base. A second Riemesch wild pitch then allowed the speedy Heiser to trot home for the go-ahead run.
Celina had a chance to mount a rally in the bottom of the seventh as Parkway's Derik Snyder, who just came on to pitch in the seventh, walked Dustin Woods. A sacrifice bunt by Riemesch moved Woods into scoring position with one out, but Snyder struck out Scott Montgomery and Chad Schumann to register the save.
Snyder's save made a winner out of Parkway starter Austin Art, who threw six innings allowing four runs on six hits with six walks and six strikeouts.
"Austin pitched a hell of a game for us today," said Parkway ACME coach Josh Crouch. "He got out of some jams along the way and kept us in the game until we could make a comeback to get the win."
Celina, which stranded 11 runners on base, had just six hits in the game and John Bonvillian was the offensive leader with a 3-for-3 game that included a pair of doubles, two runs scored and an RBI.
Heiser had four singles, three runs scored and two stolen bases to lead Parkway while Snyder added a single and solo home run.