Wednesday, June 20th, 2007
Rising into the Mercer County skyline
By Shelley Grieshop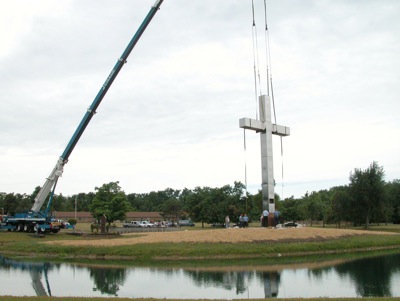 MARIA STEIN - A new 50-foot tall steel cross erected Tuesday was built as a spiritual landmark for generations to come.
The 11,000-pound cross, made of shiny stainless steel, was a gift to the Spiritual Center of Maria Stein along St. Johns Road, donated by its board members. The donors said its presence will serve as a towering welcome to retreat house visitors.
"We wanted it ready for the Country Fest this weekend," said one of the board members, who asked to remain anonymous for this story.
Rain clouds and a subsequent downpour temporarily delayed the project a little more than an hour but work soon began shortly after 2 p.m. As dozens of spectators watched in awe, a large crane took the mega-sized cross from a lying down position and carried it upright across a small pond to a grassy island where a cement platform awaited.
Workers quickly secured it into place. A chalice-shaped walkway, created with colored cement and bordered by white stone, will entice visitors across a wooden bridge to the giant structure.
The two donors - both area businessmen - who were on hand throughout the afternoon said they decided to have the cross constructed to make a "statement."
"This is a true statement of the faith in this community and the spirituality of the center," one of the men said, adding that several area businesses also donated to the cause.
Lefeld Welding of Coldwater built the cross, which consists of stacked, box-shaped steel squares. The inside of the cross is nearly hollow, except for four, 4-inch steel rods in each corner for support. Sometime this week the base will be wrapped in steel and landscape lights will illuminate the prominent fixture at night, one of the men said.
Before the start of this weekend's festival on the adjacent Maria Stein Center grounds, project organizers hope to place fountains and colored lights in the pond for accent.
The donors said the Spiritual Center has served numerous groups, couples and individuals for decades as a serene retreat site for spiritual meditation and education. They hope the cross will draw more attention to the many resources the facility has to offer.
"We need continuation of the center's potential," one of the men added.
Periodic gusts of wind caused a few sprinkles of rain to fall from the trees onto bystanders as the workers packed up their equipment for the day. In a nearby cornfield, raindrops fell from green cornstalks that stood tall in the shadow of the new cross.
An elderly woman who watched from her car quietly offered her observations to anyone listening.
"Kind of funny how the cross and the rain both arrived today," she said before driving away.