Friday, June 22nd, 2007
Coldwater scores nine runs in fourth inning
By Ryan Hines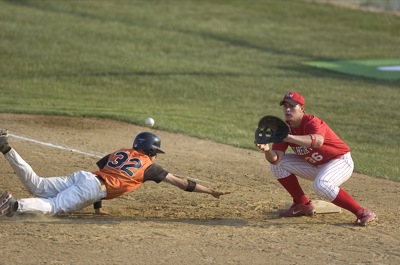 ST. HENRY - Hitting is contagious and the Coldwater ACME team proved that during the fourth inning of its game against St. Henry at the Wally Post Athletic Complex on Thursday evening.
Coldwater had nine hits and scored nine runs in the fourth frame alone en route to a 12-2 trouncing of St. Henry in a five-inning contest.
"We got our timing down and we waited on some good pitches to hit," said Coldwater ACME coach Romie Schwieterman about the fourth-inning offensive surge. "We kept hitting the ball hard and finding gaps and the hitting got contagious."
Coldwater was nursing a one-run lead, 2-1, through the first three innings making several hard outs foreshadowing what was to come in the fourth frame.
Justin Goubeaux hit a first-pitch fastball into the rightfield corner for a double and the offensive onslaught was on from there. Coldwater was still willing to play small ball as Jordan Borgerding squared to bunt in an attempt to sacrifice Goubeaux to second base. However, Borgerding's bunt was popped up in the air and St. Henry's diving stab at it came up short giving Borgerding an infield single.
"Leadoff guy hits a double and then they pop up a bunt and we don't make the play on it. You just can't give a team like Coldwater extra outs," said St. Henry head coach Joe Wourms. "After that we began to get the the ball up in the zone and they have the type of hitters to take advantage of that."
Briar Miller singled in the first run of the inning and Gavin Keck reached on a bunt single to load the bases.
After the first out was recorded, Coldwater had three more straight hits as Chad Westgerdes laced a two-run double, Bill Geeslin legged out a two-run single and Keith Wenning hammered an RBI triple.
A walk and then three more straight hits resulted in another three runs being scored for a commanding 11-1 lead.
Geeslin's RBI single in the fifth was an insurance run that was needed for Coldwater to trigger the run-rule after five innings, since St. Henry scored an unearned run in the bottom of the fifth.
Borgerding, also the winning pitcher for the second time this summer against St. Henry, was the top offensive performer from the 14-hit attack as he had three hits. Westgerdes, Geeslin, Wenning and Miller also had two hits apiece.
Josh Schneider, St. Henry's number-nine hitter, was 2-for-2 as the lone player for the home team with a multi-hit game.
Borgerding went all five for Coldwater allowing one earned run on five hits.
Coldwater is back in action today hosting Marion Local for a single game at 5:30 p.m., instead of the originally scheduled doubleheader. St. Henry is back at home hosting Celina.