Thursday, June 28th, 2007
Celina ACME strands 13 runners on base in loss
By Gary R. Rasberry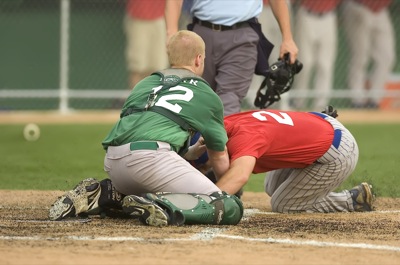 It was a seesaw battle between Celina and Crestview on Wednesday evening that could not be completed in seven innings.
Celina had plenty of scoring opportunities, but left 13 men on base and Crestview scored twice in the top of the eighth to take a 7-5 win at Montgomery Field.
The Bulldogs drop to 10-13 as the Knights go to 8-4 on the season.
Over the final five innings of the game, Celina left 11 runners on base. In the fourth and eighth innings, the bases were loaded but no runs made it home.
"We left way too many runners on base," said Celina coach Ron Fortkamp. "It should have never really gone to extra innings. We just can't leave 13 on base.
"Not taking anything away from Crestview. It just seemed like we could get them there, but we couldn't get the hit with anyone on base."
Celina was up 2-1 until the fifth, when the Knights plated four runs, thanks in part to five straight hits, two of them bunt singles, off starter Chad Schumann. Jordan Gibson's one-out single brought the final two runs in to make it 5-2.
The Bulldogs got one run back in the bottom of the fifth, then used a two-out rally to tie the game. Darrin Waterman singled and Jeremy Kerr followed with a deep double to right center, scoring Waterman to cut it to 5-4. After Schumann walked, Kyle Trafzer grounded to third, but the throw to first pulled the first baseman off the bag, allowing Kerr, who went to third on a passed ball, to tie the game.
Schumann, who gutted his way through seven innings allowing 12 hits, but just one walk to earn praise from Fortkamp, gave way to Waterman in the eighth. Moe Sarha led off with a single and moved to second on Jordan Speaks' sac bunt. Ian Zellars drew a walk before Ian Clay loaded the bases with a single. Tony Springer broke the tie with a single to right scoring Sarha. Later Kyle Balliet grounded out to third to score Zellars.
Celina had a big chance to tie things up in the bottom of the eighth. Waterman led off with an infield single and Kerr followed with a fly ball to left that was dropped, putting runners on second and third with no outs. Schumann grounded to short and was called out at first despite protests by the coaches that the ball was bobbled.
Clay, the third Knights pitcher of the game, struck out Trafzer for the second out before Ben Prenger came up and was hit by a 2-2 offering from Clay to load the bases. Caleb Shreves, called up from the junior ACME for the game and 1-for-2 already, lofted a fly to left, this time played easily by the fielder to end the game.
"A couple of errors at the end and I thought we'd have a shot," said Fortkamp. "Sometimes it falls your way and sometimes it doesn't."
Waterman paced Celina with a 3-for-5 game while Kerr had two doubles.
Celina wraps up the regular season tonight, traveling to Minster.