Friday, July 6th, 2007
Cavs hold off Indians to sweep county tournament
By Gary R. Rasberry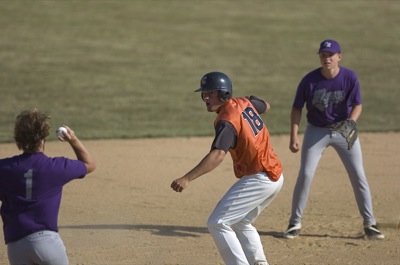 ST. HENRY - Coldwater completed a clean sweep of the Mercer County ACME Tournament, beating a determined Fort Recovery squad 7-4 in the championship game at the Wally Post Athletic Complex in St. Henry on Thursday.
The Cavaliers (21-5) head back home to Veterans' Field - site of the district tournament - as the top seed from Mercer County and will play Auglaize County runner-up New Bremen at approximately 4:30 p.m. on Sunday. The Indians (7-9), who had two big comeback games in a row to earn the district qualification, will play Auglaize County champ Minster at 2:15 p.m. on Sunday.
The Cavaliers jumped out early on the Indians, who were looking for arms after digging deep into the bullpen while wading through the consolation bracket. Coldwater scored one in the first and plated two more in the second thanks to a sacrifice fly by Gavin Keck and later when Bill Geeslin scored on an error. Single runs came in the third and fifth with the final two runs coming in the seventh when Kyle Ahrens singled in Keith Wenning and Keith Schoenherr.
"We had a couple of mistakes, throwing errors to give them a couple extra bases," said Indians coach Jarret Tobin. "Overall, I think we played well. We kept the ball in front of us."
Cavalier starter Jordan Borgerding looked strong for the first six innings. Borgerding allowed two unearned runs in the third, but only gave up four hits and a walk through the first six innings, striking out five along the way.
"(Borgerding) battled really well for us. He's always consistent and stays around the plate," said Coldwater coach Romie Schwie-terman. "He makes them put it into play and normally our defense has been pretty good. You know when you get into the sixth we have the big weapon (Geier)."
The Indians, who came back from down 3-0 in the first against Parkway on Wednesday, looked to put up another fight in the seventh. After Alex Gehle singled, Borgerding got Greg Kahlig to fly out before Cody Fiely reached on an error. Curt Heitkamp grounded to third to allow Gehle to score to make it 7-3 on the fielder's choice. Frank Thien followed up with a single to put two on for Troy Metzger. Metzger got a single to score Heitkamp and send Thien to third on an error.
That caused enough heart palpitations for Schwieterman to bring on closer Alex Geier, who needed just three pitches to strike out Bobby Rammel to end the game.
Afterwards, Schwieterman, one of the wittiest baseball men in the area, couldn't help to kid a bit about the way the game ended.
"Sometimes we sit in here and say 'Can't these guys go just into the seventh and go 1-2-3 once?'," said Schwieterman with a grin. "It's almost like 'Let's see how we can riled we can get that coaching staff our ours.'
"Someone had a radar (readout) on the scoreboard at one place. Nut threw one and it had a question mark on there," said Schwieterman, referring to Geier by his nickname. "It's great to have different look out there. He looks like he's from the Wizard of Oz, one of those guys from the Emerald City. Guys think they're going to load up and tattoo one off of him and you can't time him up."
Tobin is happy that his team will keep playing for at least another week.
"We had a couple of guys in different places in case we have to move them around," said Tobin. "It's just an extra game to sharpen up before Sunday."
The other teams coming to Coldwater are from Van Wert and Crestview from Van Wert County and Fort Loramie and Anna from Shelby County. Van Wert, the Van Wert champ, and Anna, the Shelby runner-up, will play at noon on Sunday with Shelby champ Fort Loramie and Van Wert runner-up Crestview wrapping up the day at 6:45 p.m.