Wednesday, July 25th, 2007
New Bremen one out away from advancing before Perrysburg rally
By Gary R. Rasberry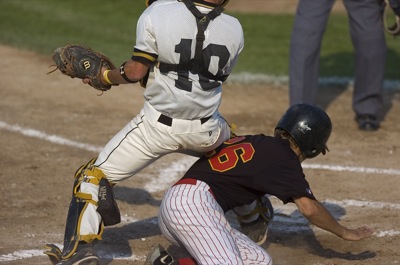 BRYAN - One out away from staying alive in the 2007 Ed Bollenbacher state ACME tournament, things changed in a hurry for the New Bremen Cardinals.
Leading 5-3 with two outs away, the Cardinals gave up three straight hits. The final one, a lofty fly ball by Thomas Patterson, went over the head of Cardinal rightfielder Jared Cox, allowing the final two runs to score eliminating the Cardinals, 6-5, from the state tourney at Ray Sumpter Field in Bryan on Tuesday.
The Yellow Jackets (32-11) now play Shawnee tonight at 8 p.m. in a consolation bracket contest. The Indians beat Toledo Central Catholic, 4-2, in the late game on Tuesday.
For the bulk of the game, the Cardinals were riding high behind the left arm of Brad Wendel, who came back after going the distance on Saturday in the New Bremen's 13-2 win over Benjamin Logan.
After a shaky first in giving up two runs, Wendel settled down, striking out six in the game and scattering eight hits.
"He gave us a good effort," said New Bremen head coach Gregg McCollum. "You couldn't ask for anything more than what he gave us."
Meanwhile, the Cardinals worked to get back into the game. In the second inning, three straight bloop singles and a sacrifice fly by Curt Brown brought two runs in to tie the game.
In the third, the Cardinals broke out a big inning reminiscent of Saturday's win. After Anthony Moeder walked, Matt McCollum singled. Wendel brought in Moeder by reaching on an error. After both runners moved up on an error, Derrick Bruggeman was intentionally walked to load the bases for Cox.
Cox belted a shot to center, bringing in McCollum and Wendel, but Bruggeman was thrown out at home on a perfect throw from Perrysburg centerfielder Blake Schmenk for the first out. Jackets pitcher Neil Linthicum then retired Dylan Crisp and Adam Meyer to end the inning.
"We came out hitting the ball well. We had 10 hits," said coach McCollum. "We hit the ball pretty decent. After the third, we just couldn't get a runner across."
From there, Linthicum and Taylor Dimmerling, who came in to get Perrysburg out of a jam in the sixth, clamped down on the Cardinals, allowing just four hits after the fourth inning.
In the bottom of the seventh, things changed up quickly. Schmenk led off with a double and scored after Corey Szczublewski followed with a single and went to second on the throw home. Wendel balked the runner to third before getting Dimmerling to ground to Corey Barlage at third to keep the runner on the base. After a strikeout, Coe McKinley singled in Szczublewski to make it 5-4. Kevin Bosl followed with a single to put runners on first and second for Patterson, who was 0-for-3 coming into the bat.
"We told him not to think what happened three times before," said Perrysburg manager Dave Hall. "It only takes one hit to get it."
Patterson lofted a fly to right that Cox could not get to, rolling to the fence. McKinley scored, followed by a sliding Matt White, pinch-running for Bosl, to end the game.
"I knew we had a shot going into that last inning. We had our top five hitters up," said Hall. "We've come back quite a bit this year. We came back against what I think is a pretty good ballclub.
"Our kids believed and we told them they were two hits away. We got them. You just have to believe in that."
Coach McCollum said that there wasn't much thought about pulling Wendel in the seventh.
"He's been one of our best pitchers all year," said coach McCollum. "He said he felt good. Hard one to lose."
After making the state for the first time since 1964, when the program won the state title, the Cardinals are hoping that the momentum will carry through to next season.
"I just hope it carries to the high school year," said McCollum. "They had a great summer. These kids have been a joy to coach. They do everything you ask and work hard. Hope it's something to build on."