Saturday, July 28th, 2007
Going cruising at Celina Lake Festival
By Janie Southard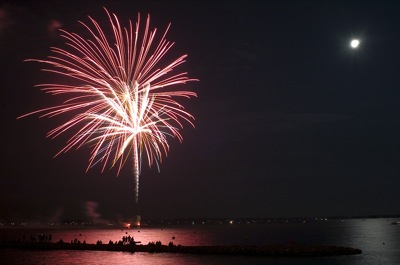 MONTEZUMA - Oh, yeah, this jazzed up baby starts with a mild roar that is music to any car lovers ears. Plus, she puts a whole lot of stares on the faces of other motorists as she zips down the road.
"She can lay rubber when I shift," proclaims Mike Yohey, owner of this bright red, 1938 Chevy, Master Deluxe, two-door sedan, as he maintains the speed limit (and maybe just little bit above) around his country block.
This isn't the Mercer County native's first old car. He bought a 1932 Plymouth coup hot rod for $500 back in the day when he was 18 years old.
"It was a neat car. Didn't have a hood and no fenders. But I liked it ... I had to get rid of it after I got married because we needed a real car," he told The Daily Standard last week at his home where the car is sheltered in a pristine garage.
He sold it to a guy in Van Wert who turned it into a race car, which did not please Yohey. "I doubt that old car is still around," he said with a tinge of sadness.
Three years ago he decided to buy another old car, this time the jazzy red 1938 Chevy. "Well, you know after you retire and the kids are gone you have a little more money ... I don't have hobbies like fishing or golf, and I've always loved cars, I thought why not get another old one," he said as he tinkered with the oil stick being careful to wipe off any stray fingerprints.
So far, he goes to car shows, like the Lake Festival Cruise In tonight, but he's hoping to find time to go touring with a car club. "They travel around in groups and visit various places like factories that produce parts for these old cars," he said.
He listed some of the internal workings of his car that will probably grab the attention of car lovers: Heidt's front end, Halibrand wheels, 327 Chevy engine, a 250 turbo transmission and a Nova rear end. He didn't explain, but people in the know will know.
The interior is a light tan tweed as is the trunk where the flat-screen TV is hinged to swing out when needed.
It's also got all power except for the steering and that's so that the engine is not cluttered up with more equipment.
"These cars are popular with my age group (early 60s), but the really popular ones now are the Camero Super Sports, Mustangs, Mopars. People who drove those and now have their kids raised are getting back in time," he said.
He's recently been to the Good Guy National Car Club show in Columbus where there were about 5,000 old cars on display. But one of the really big shows is in Louisville, Ky. where there are as many as 14,000 cars to be seen.
"It'll take a couple days to look at all of them," he said adding one of the bigger local shows is the Lake Festival Cruise In where there are up to 300 cars on display.
Yohey's favorite part is the cruise-in, where all the cars parade to Grand Lake. "That gives us a spot in the front row to watch the fireworks later in the evening," he said.