Monday, July 30th, 2007
Grand Lake wins regular-season finale over Lima
By Ryan Hines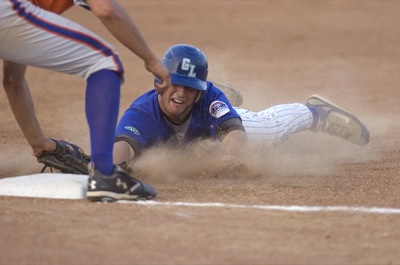 A big night by Michael Earley gave the Grand Lake Mariners a win over rival Lima in the Great Lakes Summer Collegiate League regular-season finale on Sunday at Jim Hoess Field.
Earley went 4-for-4 with three RBI to help Grand Lake to a 7-0 trouncing over the suddenly reeling Lima Locos, who have now lost four straight.
The Mariners also won the season series with the Locos, 3-1.
Lima, despite the recent slide, still had the best record in the regular season and will be the top seed for the postseason while Grand Lake grabbed the fifth seed in the six-team playoff format.
The Mariners made it look easy in this one as they out-hit the Locos 7-2 while Lima committed four errors.
After three scoreless innings, Earley got Grand Lake on the board first with an RBI double for a 1-0 Mariners lead. Brooks Hunton had a sacrifice fly for an RBI and Brian Suerdick lined a two-out RBI single to cap a three-run fourth frame for the Mariners.
"He left the ball up and our right-handed hitters took care of business," said Grand Lake manager Scott French. "We stayed on the ball and took advantage of balls up in the zone."
Earley put two more runs on the board for Grand Lake in the fifth inning. Kory Benbow doubled with one out and Mike Stalowy walked chasing Lima starting pitcher Brian Garman.
Lima's Brian Hangbers struck out Grand Lake slugger Marc Krauss looking, but Earley ripped a triple to leftfield scoring Benbow and Stalowy for a 5-0 Mariners lead.
"He had a big night," said French of Earley. "He has had a great second half of the season and capped it off with a big night tonight."
Grand Lake tacked on two more insurance runs in the eighth inning, highlighted by an RBI double from Versailles native Zac Richard.
The seven runs were more than enough for the Grand Lake pitching staff that allowed a total of just two hits in the game. B.J. Holloway singled in the first inning and Daniel Furuto singled in the seventh to account for the Lima hits.
Dusty Hawk started for Grand Lake and went the first four innings before Andrew Shisila came on for two followed by single innings from Brad Piatt, Alex Watson and Kyle Heyne.
"Before the game, everyone knew what innings they were going to pitch and we wanted to get a lot of guys some work before next week (GLSCL playoffs)," said French. "It has been our pitching and defense that has really helped us pick up momentum and wins."
Although Grand Lake had already clinched a berth into the GLSCL playoffs heading into the contest against Lima, French was happy with the play from his team after getting swept in a doubleheader at Delaware on Saturday.
"I think that it was important for us to play well in this game and win because we didn't play well on Saturday," said French. "Delaware pitched well, but we didn't play well and we lost two. It's nice to have a win under our belts going into the playoffs."

GLSCL Playoffs:
Great Lakes Summer Collegiate League postseason information.
Wednesday, Aug. 1
(1) Lima (26-12) vs. (6) Southern Ohio (23-15), noon
(3) Delaware (25-14) vs. (4) Cincinnati (23-14), 4 p.m.
(2) Columbus (25-13) vs. (5) Grand Lake (23-15), 7:30 p.m.

• Seeds and records are in parenthesis

2007 GLSCL Final Standings:
Final regular season GLSCL standings
Team Record
Lima 26-12
Columbus 25-13
Delaware 25-14
Cincinnati 23-14
Grand Lake 23-15
Southern Ohio 23-15
Stark County 20-20
Lake Erie 18-19
Licking County 17-22
Xenia 7-32
Anderson 4-35