Thursday, July 5th, 2007
Indians earn tickets to District ACME
Tribe fights back to earn district ticket
By Gary R. Rasberry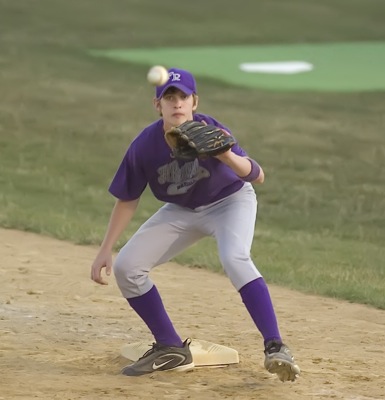 ST. HENRY - Things looked bleak for the Fort Recovery Indians after the first inning of the consolation bracket ACME tournament final at St. Henry on Wednesday.
Indians' starter Travis Hart allowed the first three batters to reach base without getting an out. By the time the inning ended, Parkway was up 3-0.
Fortunately, the teams played six more innings.
The Indians rebounded, tying the game in the third with three runs, taking the lead in the fourth and adding two insurance runs to eliminate the Panthers 6-3.
Fort Recovery (6-8), which entered the tournament 4-7 and the fifth seed, earned the second district qualifying spot and will play top-seeded Coldwater tonight at the Wally Post Athletic Complex at 6 p.m. for the district championship. Parkway, the second seed of the tournament, ends its season at 15-11.
"We've been up all tournament and let teams back in it," said Indians coach Jarret Tobin. "I knew if we'd get some guys on, we'd be able to put the ball into play. We've been getting big hits all week. We're rolling."
With pitching arms in dire need, Tobin called on a pair of guys with plenty of innings already in the tournament to get them through. After Hart walked Derik Snyder to load the bases, Bobby Rammel came from behind the plate to pitch. Rammel uncorked a wild pitch to score Mike Baldauf, gave up a sac fly to Jordan Thompson to score Jeremy Heiser and saw Levon Archer single in Snyder to make it 3-0.
But after that, he closed things down, allowing just one more hit over the next four innings before running out of innings due to the 10-inning over three days rule. Rammel retired nine straight at one point before giving up a fourth-inning single to Ethan Hayes. Rammel then only allowed one more batter to reach base before giving up the ball after the fifth inning.
"We didn't hit," said Parkway coach Josh Crouch. "We had mental mistakes. They scored three runs basically off an overthrown ball at second."
Meanwhile, the Indians worked to find runs off Panther starter Austin Art. In the third, the Fort found its break. With one out, Nathan Keller walked. Curt Heitkamp grounded back to Art, who looked to get Keller at second, but the throw was wild, leaving all hands safe. Frank Thien made it a costly mistake with a single to score Keller to break the shutout. After Tony Metzger bunted the runners up, Rammel cleared the bases with a double to tie the game.
"We didn't play ball," said Crouch. "We only had two, but when we had errors. it cost us."
In the fourth, Alex Gehle, Hart's defensive replacement, singled with one out. Greg Kahlig moved the runner up after Joel Henkle made a solid play at first to get the out. Keller stepped up and looped a single over the third base bag, allowing Gehle to score to break the tie.
Insurance came in the fifth. Thien reached first when Henkle was pulled off the bag on a throw. Metzger laid down his second straight bunt to move up the runner. Rammel was plunked by a pitch to put runners the corners. After Rammel stole second, Derek Koesters grounded deep into the gap at short, allowing Thien to score to make it 5-3.
Thien scored his third run of the game in the seventh, scoring on a wild pitch as part of ball four to Matt Braun.
Kahlig, who got the win in the Indians' 10-9 extra-inning win over Marion on Tuesday, came on in the sixth. Parkway had its last chance to get a run back after Archer and Hayes drew back-to-back walks with one out. Kahlig recovered to strike out Luginbill and get Henkle to fly out to center to end the threat.
In the seventh, it was nothing but heat coming from Kahlig's arm as he struck out the side - finishing with five punchouts - to send the Indians to its first ACME district in recent memory.
"Their arms are killing them, but they showed they had heart," Tobin said of Rammel and Kahlig. "They came out and dug down. They knew we could beat this team. We proved it with our bats. We played really good defense (no errors) and just played an all-around good game against a good team."
Tobin is happy that the team, which were district runners-up in the spring, is taking the next step.
"I think they're starting to believe they can play with any team around here. Earlier this summer we played Parkway (in a doubleheader) and lost 19-1, then came back to beat them 3-1," said Tobin. "It shows they can play with anyone."