Wednesday, August 1st, 2007
Planting knowledge with the corn(iness)
By Margie Wuebker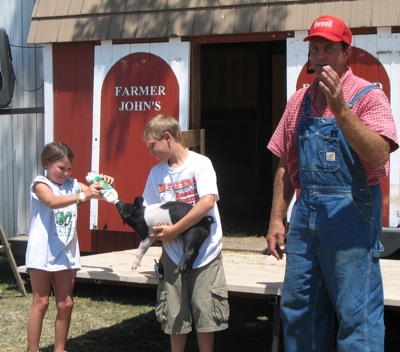 WAPAKONETA - The red barn and gray silo perched atop a flatbed trailer looks familiar and right at home at the Auglaize County Fair.
This marks the fifth year Ypsilanti, Mich., resident John Forshee has brought Farmer John's Barnyard Express to the area. With assistance from a pair of Border Collies, a Nubian goat and an American miniature horse, he presents humorous yet educational shows weekdays at 2:30, 4 and 7 p.m. and Saturday at 1, 5 and 7 p.m.
"I try to sneak in some education between the humor," the 49-year-old performer says. "Kids learn something at the shows but they don't even realize they're learning. It makes for a lot of fun."
Wearing bib overalls, a red gingham shirt, high-topped shoes and a red Farmall hat, he works the crowd garnering enthusiastic replies. Youngsters fill the long green rug placed on the ground a safe distance from the makeshift stage. Metal bleachers hold the overflow while parents and grandparents occupy the perimeter hoping to find shade in the 90-degree weather.
"Do french fries, hamburgers and pizza come from the farm?" he asks and receives a chorus of mixed answers in return. Few respondents believe pizza originates from a decidedly country setting.
That is until Farmer John explains the dough is made with wheat, the sauce comes from tomatoes and the cheese from milk. Credit pigs for pepperoni and steers for ground beef. The lesson amazes one youngster who tells his mother, "I thought pizza came from Pizza Hut or Domino's."
Traveling year-round to schools, fairs and special events, Forshee has discovered many children have no concept of where food originates. He quickly steers them straight - milk, butter, eggs and meat comes from the farm and not the store.
"People don't have the opportunity to visit farms today like they did in grandpa's and grandma's day," he said. "Nowadays large farm operations are more concerned with disease and liability than visitors."
His menagerie, which also contains pigmy goats, a Holstein calf, Cordale sheep and a pig named Sloppy, provides hands-on contact. It is a new experience for some children and adults, particularly those from the inner city.
Goofy, the Nubian goat, joins Forshee on stage for an impromptu milking lesson. Volunteer Emily Patton of Waynesfield successfully sends a stream of milk across the stage right into the mouth of Smudge, one of Farmer John's two dogs.
"Smudge thinks he's at Dairy Queen," the dark-haired host tells the audience. "A goat like Goofy gives a gallon of milk a day while a cow averages at least 10 gallons a day."
Without missing a beat, he points to the animal's head and adds milk comes from the "udder" end.
The tail is merely a hood ornament and not a pump. Dairy farmers do not take weekends off because their goats or cows produce milk seven days a week including holidays like Christmas and the Fourth of July.
Sloppy the pig runs around the audience, stopping occasionally to root in the dirt or nuzzle an unsuspecting child. Although quite small, Forshee warns his little buddy should reach 220 pounds in seven months or so. He maintains pigs are smart animals capable of making five sounds including one resembling a dog's bark.
Farmer John built the Barnyard Express after considerable planning. In addition to sleeping areas for him and the dogs, it has pens to hold the other animals while moving from one engagement to another. Other amenities include a microwave oven, a television and generous storage space.
Forshee, who holds a degree in farm operation from Iowa State University, was working as a manager at Domino's world headquarters in Ann Arbor, Mich., when he started a petting farm much to the delight of youngsters visiting the facility. When the company relocated, he took his show on the road.
"I've watched kids grow up," he says. "This will mark my 13th year at one event. The kids who once came to every show are now teenagers. They don't think Farmer John is as cool as he used to be."