Tuesday, August 7th, 2007
Something unexpected shakes up lake community
By Nancy Allen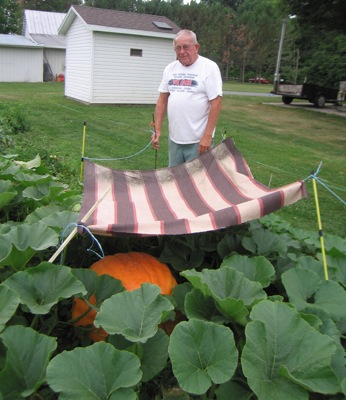 Something is causing a stir in the sleepy community of Behm's Landing on the south side of Grand Lake.
It's not a new super charged, decked out speed boat the neighbor just bought or even a 50-pound carp.
It's a large pumpkin growing in a garden along Golden Pond Road near the lake.
Tending the pumpkin is Behm's Landing resident Ralph Klenke, 79, who decided while on an annual trip to Texas with his wife last year that he was going to grow a pumpkin to take to the county fair. He got a seed catalogue and ordered some pumpkin seeds.
"I just wanted to see if I could grow a pumpkin," Klenke said matter of factly Sunday, while adjusting the striped tent he erected over the pumpkin to keep it from drying out in the sun.
Klenke told with frustration how he watered, weeded and tended the vine that reaches about 30-feet long for weeks without seeing a single pumpkin. Then about a month ago, viola!
When he first discovered the pumpkin nestled under a heavy canopy of leaves, it was about the size of a basketball. Now it's probably triple that or more.
Klenke's almost daily care and hovering over the growing squash has given landing residents something to talk about and reason to smile. And he never misses a chance to show it off.
"He comes over every night and waters it and babies it," said neighbor Deb Hoersting, who lives across the street from the garden, which also contains zucchinis, tomatoes and jalapeno peppers. "He comes over with his little dog in his golf cart and sometimes his wife comes too. We've walked over their several times to check on it."
If not by name, then by sight, almost everyone at the landing knows Klenke. He mows several tracts of grass there and four nights a week he cleans the restaurant bar, located just a stone's throw from his house.
He's a constant fixture at the landing, motoring around in his electric golf cart, talking to neighbors, keeping tabs on things, and always, every evening, checking on his pumpkin.
Klenke said he thinks he'll need a skid loader to get the huge vegetable out of his garden. His niece's husband, Ron Niekamp, has said he would help. Klenke's only extra care was using Miracle Grow on it two times, and of course, the little tent.
He noted almost with glee how he gave landing resident Dave Meyer one of the same pumpkin seeds he got from Texas, but Meyer's vine never made a single pumpkin.
The only other vegetable Klenke said he's taken to the county fair is a zucchini he took last year.
"I got a red ribbon and $3," he said, smiling. "That was enough."
He's got another whopper zucchini growing in his garden this year too, though he hasn't decided if he's going to take that to the fair too.
He said he doesn't care if he wins a prize or not with his pumpkin. It's just been fun watching it grow.
There's another pumpkin in his garden Klenke has his eye on too, though it's not for the fair.
"I'll probably give that one to my niece to see about a pie," he said.