Wednesday, August 8th, 2007
A special week of tasty treats
By Margie Wuebker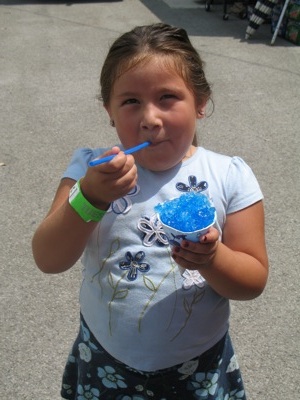 A succulent pork loin sandwich or a thick burger shrouded in cheese. Deep fried veggies or a funnel cake dusted with powdered sugar. Homemade noodles or home-baked apple dumplings.
Visitors to the 155th Mercer County Banner Fair face these and other mighty tasty choices as they stroll the grounds.
Giles and Eileen Ronnebaum of Montezuma braved hot and humid weather conditions to attend Tuesday's opening day activities.
"We couldn't wait to have ice cream or cotton candy in our younger days," she says with a smile. "Now that stuff is off limits for health reasons."
The couple will come to the fairgrounds frequently to enjoy events ranging from 4-H competitions to senior citizen day activities. When hunger pangs strike, they typically alternate between food stands sponsored by organizations like the Mercer County Pork Producers, Mercer County Cattlemen's Association, Unity Grange and Hopewell Grange.
"We like homemade food," Giles Ronnebaum says. "I remember back in the 1950s and 1960s when there were all kinds of grange stands. We used to work at the Montezuma Grange where you could get a good meal at a fair price. Now there are just two carrying on that tradition."
Those who enter the Hopewell Grange building across from the grandstand will find meat loaf, roast pork, baked chicken, turkey and dressing, homemade noodles, cucumber salad, coleslaw, pickled beets with eggs and more on the menu. Air conditioning sweetens the dining experience as temperatures soar into the 90s.
An array of homemade desserts, ranging from angel food cake to lemon meringue pie, tempt old and young alike.
"All our pie is homemade with the exception of pecan and sugar cream," Esther Zizelman says. "The variety depends on who's baking and what they decide to make."
Members gathered in late July for three to four days of noodle making, going through sacks of flour and 12 to 15 dozen eggs per session. Yolks give the noodles a rich yellow color while the whites were saved for angel food cakes.
"We get a lot of carnies at mealtime," Zizelman says. "They tell us the Mercer County Fair is the only fair around where they can get old-fashioned home cooking."
Former Coldwater resident Pat Homan pulls a tray of apple dumplings from the oven at her concession stand. A quick check in another oven confirms the latest batch of blackberry cobbler is nearly done as well.
"One of my former St. Henry High School classmates commented I had a nice little business going," she says with a chuckle. "I think you have to be crazy to do what I do. After all, who would leave their air conditioned home in 95-degree weather to set up a trailer on blacktop and then fire up the ovens?"
Homan, who currently resides in Lima, has owned the apple dumpling trailer for seven years and previously worked another five or six years for the previous owner.
"I've been in this awhile and know the ins and outs," she says moving to turn up the fan another notch. "I'm pretty crusty."
In accordance with health department regulations for mobile concessionaires, all her products come frozen from commercial suppliers. She would prefer homemade but settles for home baked.
Homan tested a lot of products before settling on certain suppliers. The cobbler, for instance, comes from Little Rock, Ark., because the company uses plump berries with fewer seeds.
Fresh from the Auglaize County Fair, she will enjoy a two-week respite before returning to the circuit for events in Hardin County and Upper Sandusky. Fall brings the busy Minster Oktoberfest weekend and generally cooler weather to spark appetites.
Christine Diego of Kenton knows a cool treat when she sees one. Her grandmother, Lori Root of Kenton, is a newcomer at the fair with the Chili Pepper Cafe as well as a snowcone stand situated beneath a large pink umbrella.
When asked about her favorite flavor, Diego replies "blue." Blue raspberry and root beer top the list of flavors with some youngsters requesting a mixture of all flavors.
"It's too hot right now for tacos," Root says. "But that part of the business will pick up later in the day and sell like hotcakes."
Visitors to the fair can work their way along the midway one treat at a time - from fried cheese, corn dogs and burritos to elephant ears, chocolate-covered apples and funnel cakes.

Memorable mug:
A commemorative stein auctioned off at the Mercer County Fair Beer Garden Tuesday night sold to the Celina American Legion, Post 2510, for $7,000.
Three others attending the auction, Homan Equipment in Maria Stein, Celina Eagles and Celina Veterans of Foreign Wars also chipped in with donations of $1,000 each.
The $10,000 raised is being donated to the Junior Fair Building Project.
The empty mug was the first commemorative stein issued by the Mercer County Fair.