Saturday, August 11th, 2007
Drenched arena prevents local equestrians from horsing around
By Janie Southard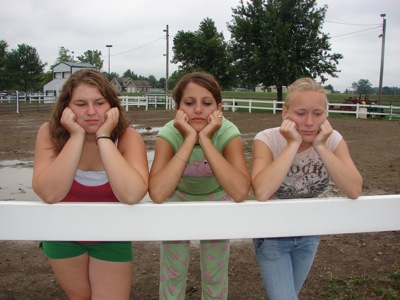 It was good news/bad news for three local equestriennes when their versatility event was canceled Friday morning. The good news was that they got to sleep in.
And further good news was that the storm the night before brought with it cooler weather.
Kirsten Eberle of Celina, 16, and Kendra Smith of Rockford, 18, told the newspaper Friday morning they've been wearing shorts all week right up to the time they need jeans for an event. Ashley Schulze of Montezuma, 16, said she wears jeans all the time no matter the heat.
So Friday was not a typical fair morning for this trio of horsewomen who would ordinarily been up at 5 a.m. to feed their horses.
"You want to feed your horse early so that the food is digested before your event," said Smith.
"Plus horses are natural grazers so it takes them a long time to eat," Ashley chimed in.
"Especially this week when it's so hot," Eberle added.
On a typical day, the girls would then clean up the horses and band their manes.
Banding means they separate out small strands of mane and put a rubber band around it like a girl's pony tail. It takes quite a while because there can 60 or more bands on one horse.
Of course, they bathed their horses the night before and put a sheet over them for the night.
"It's kind of like pajamas ... But it's to keep them clean because they lie down to sleep and they like to roll around in the stall," Smith said.
After the banding, they clean up the horses getting off any spots or stains. Horses with natural white spots get a whiter white through an application or two of baby powder.
"Then we clean up their faces using a razor on their whiskers," Eberle said.
"And, we have to trim the hair out of their ears," Schulze piped in.
Finally, on a typical morning, the girls would be getting themselves ready for their event - doing their hair, putting on make-up and their show clothes.
No showers though, because there's no time. "But we use tons of baby wipes," Eberle said as the threesome illustrated rubbing down their arms with imaginary wipes.
What's memorable about their time at the fair, and all together they've been showing horses for 20 years, is the camaraderie.
"It's not really competition. It's a bunch of friends getting together again," Smith said. "It's everybody helping each other out.