Thursday, August 2nd, 2007
Luebke gets no-decision in debut with Fort Wayne
By Gary R. Rasberry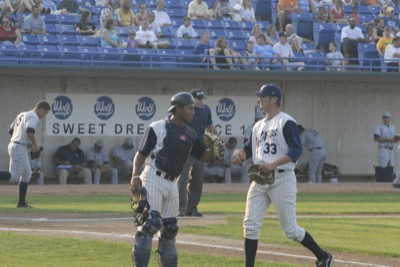 FORT WAYNE - You could forgive Cory Luebke if he had a few butterflies in the stomach.
While the Marion Local grad has been pitching - and pitching well - in the minor leagues for just over a month, Wednesday night was as close to a homecoming as he will get.
Luebke made his pitching debut with the Class A Fort Wayne Wizards at Memorial Stadium in Fort Wayne after getting the call up from Short Season Class A Eugene on Tuesday.
While he did not figure in the decision, a 5-4 win for the Beloit Snappers in 12 innings, Luebke showed the contingent of family, friends and fans that made the trip from Mercer County that he is doing just fine.
"I talked to a few of my friends and let them know," said Luebke after the game about the rooting section that featured not only Marion Local fans, but also fans from St. Henry and Coldwater. "I guess the word kind of spread."
Luebke's velocity was good, many in the 90 mile per hour range, in his four innings of work. Luebke's line was four innings, three runs, six hits, two walks, one hit batter and five strikeouts in getting the no-decision.
"I should have never gave up three runs in an inning," said Luebke. "Didn't have my stuff going, but it was good to get my feet wet and hopefully bounce back from this."
Luebke took a 1-0 lead into the third, the only bad inning of the night. Luebke gave up four straight hits, and five hits in the inning, to give the Snappers a 3-1 lead. Luebke got out of trouble by getting a strikeout and fly out with the bases-loaded.
"I was talking to Wally (Fort Wayne pitching coach Wally Whitehurst) between innings. He just said I was getting out front a little too bit," said Luebke. "I was getting to the plate too quick. Just made an adjustment.
"I was pitching a little too much on adrenaline and not being smart with my pitches. It took an inning or two to settle down."
If the third can be described as his worst inning, he saved his best inning for last. Luebke struck out the side, with his last pitch to Wilson Ramos registering at 96 MPH on the radar readout in rightfield.
"I think the (radar) gun was a little too high," said Luebke with a laugh. "It was a matter of me calming down and just pitching and not trying to gas it up."
There was no chance Luebke would come out to start the fifth, in spite of the Wizards coming back to tie the game at 3-all in the bottom of the fourth. Luebke was on a 75-pitch limit, set by the San Diego Padres (the Wizards' parent Major League Baseball club) and was at 72 pitches after four innings, the bulk coming in the third when he threw 24.
"He was probably a little nervous to start out the night," said Whitehurst. "Rightfully so. He got better in the fourth inning. ... First time out, he wasn't bad.
"It was good he got through the fourth the way he did. Hopefully that will carry over to his next start (which could take place in Fort Wayne on Monday against Wisconsin)."
Whitehurst also mentioned that Luebke's pitch count will likely increase for his next start, "possibly to 90 pitches."
Postgame, Luebke talked about being happy to get back closer to home.
"Eugene's nice. I like the team and everything, but at the same time, getting closer to home is nice," said Luebke. "I just pitched on a little bit too much emotion tonight. Didn't really keep my ball down early. I threw my ball by some hitters, something I haven't done in awhile.
"There's a lot of things you hope for, but you never know until it happens. It was nice to be home with family."
The family part was nice, considering that parents Jeff and Nancy did a lot of traveling to watch Cory at Ohio State in the spring.
"They were pretty excited," said Luebke. "They used up their work days watching me pitch this spring. They were happy.