Thursday, August 23rd, 2007
Ex-convict gives back for help received
By Margie Wuebker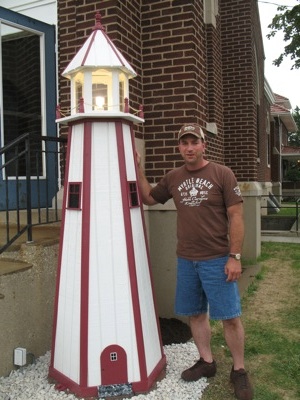 Tim Frysinger stands outside The Lord's Church on North Main Street looking at the 9-foot lighthouse he built from scratch.
The ambitious project represents his appreciation to a pastor and a congregation who reached out to him more than a decade ago as he sat in the Mercer County Jail and later in the Lima Correctional Institution.
Frysinger, a self-employed building contractor who lives and works in Cardington, admits his life was like a ship adrift in a stormy sea with little if any hope of reaching shore. That is until Pastor Randy Christian and God intervened, he says.
He remembers the first time he spoke with Christian - March 7, 1996 - as if it were yesterday.
It was a Sunday night service in the jail sallyport. He took a seat in the last row and half-heartedly listened to Scripture. His mind was filled with other things like a recent conviction on abduction charges and an upcoming sentencing date.
The service ended and inmates awaited an escort back to the cellblock. Christian's words, "you want to talk to me," and accompanying look of concern stirred Frysinger. He later asked to talk to Christian, who headed back to the jail to speak with the troubled man.
"Becoming a lighthouse in the community" was part of the prophecy the pastor shared. He also spoke of God's unwavering love and forgiveness.
Newspaper accounts of the April 16, 1996, sentencing describe Frysinger sitting in the hushed courtroom with his hand on a Bible. He asked God and Mercer County Common Pleas Court Judge Jeffrey Ingraham for probation in order to address substance abuse and alcohol issues.
Instead, he received a minimum of three years and a maximum of 10 years for the stalking and abduction of two young women as they walked along a Celina street in August 1995. Fortunately, two witnesses alerted police before something even more serious transpired.
The former high school football star and heavy equipment operator said he entered prison with a sense of peace and freedom in spite of tall fences topped with coiled razor wire.
"Tim was set free spiritually long before he was set free physically," Christian says. "We have a banner in church that proclaims 'Look what the Lord has done.' That certainly applies to Tim, who has been called out of the darkness so his light can shine before men."
Frysinger says the low point in life came five to 10 years before the abduction when his addiction to marijuana and alcohol led to poor choices.
"Satan had me in his grips," Frysinger says. "I loved to pick fights, the bigger the other guy the better. If Jesus had not entered my life when he did, things would have turned out differently behind bars. I might not have survived or I might have spent an awful lot of time in the hole. Fights, drugs and alcohol are easy to come by in prison."
He eventually earned an associate's degree in business and completed numerous Bible study courses before being released in February. He lives with a sister and maintains a good relationship with his daughter, ex-wife and other relatives, he says. Sunday church services and Friday morning prayer group meetings are an important part of his weekly ritual.
"I work with my hands now turning wood into something beautiful," he says. "This lighthouse has been in the back of my mind for a long time. It is my way of giving back to Pastor Randy and the community."